The 11th Commandment
When photographing in Israel, taking great pictures means bringing history to life.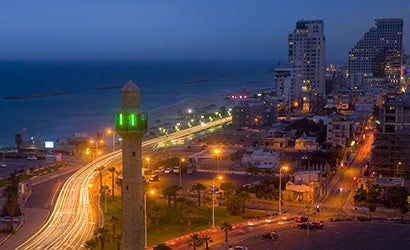 It's early morning and I'm scrambling up the Mount of Olives overlooking Jerusalem, a focal point for three of the world's major religions. I'm halfway through a weeklong tour of Israel, trying to capture this ancient and diverse land in pictures. While my mission is ambitious, so is my itinerary: a huge circuit that takes in the entire country, from the pulsing nightclubs of Tel Aviv and the raw wilderness of the Negev Desert, to the resort beaches of the Red Sea, and the hills and mountains of the Galilee. Now, with just a day in the immemorial city, I'm searching for that iconic shot that sums up 4,600 years of history.
I find it. The onion-shaped domes of the Russian Orthodox Church of St. Mary Magdalene are in the foreground, a Jewish cemetery below the Roman walls in the middle, and the gilded Dome of the Rock — a Muslim shrine — in the background. Christianity superimposed on Judaism and Islam at f/8, 1/500 sec. I couldn't imagine more historical layers if I tried.
But there's something missing. As compelling as the image is, and though it encapsulates the history of Jerusalem, it's missing any action or element that might represent its city life today. I take the shot, though I continue to mull over a question that's been haunting me: How do I dust off the cobwebs of a lifeless photo and
Hire education
We all do it. We spend thousands of dollars to travel to some exotic destination and then decide to save money by not hiring a local guide.
Guides, good ones who understand your photographic mission, are invaluable. In Israel, my guide and driver, Ruthie Eisenstein, not only educated me on the history, customs, and culture of the nation, but also was a font of photographic ideas.
Religious ceremonies are some of the most visible and emotional subjects that bring history to life. Ruthie knows that bar mitzvahs are held each Monday and Thursday morning at the Western Wall in Jerusalem. "It's the best time to photograph people celebrating life," she said. And best of all, no one would mind me photographing this coming-of-age ceremony. "You'll blend in — everyone has a camera."
Photographing in Holy PlacesChurches, mosques, and synagogues can be vexing photographic subjects. Sometimes it's easy — there's a picture of a camera with a red slash through it. Other times it's muddled-small point-and-shoots are okay, but show up with a professional-looking setup and you get ushered out.Documentary photographer Raul Touzon says he often finds his richest images outside the churches."You shouldn't photograph inside a church during a ceremony, but processions held outside are fair game. They expect to be photographed."The best times to capture emotion and activity, he says, are right before and right after the procession."You can mingle with the people then, they're at their most natural and you have the best access."If you want to photograph inside a church, renowned travel shooter Bob Krist advises turning off your flash, pumping up your ISO, and using a small tripod or monopod that you can prop up on a pew or against a column.Digital comes into its own in low-light photography. Inside the Church of the Holy Sepulchre that sits atop the hill where Jesus was crucified and buried, I relied on my 80-200mm f/2.8 Nikkor lens on my Nikon D200 at ISO 1600 with in-camera noise reduction. The combination gave me speed and light, and allowed me to photograph pilgrims from a distance in an unobtrusive manner.When it comes to subjects, your choice is limited. "Look for the available light, usually from big windows or candles," says Krist, "and shoot what's in it."
When I struggled to capture the spirit of Galilee, the seaside hills where Jesus lived for most of his life, she took me to a spot along the Jordan River where he was said to have been baptized. A busload of Mexican pilgrims arrived, and knee-deep in the cool Jordan I was able to photograph the peak of their emotional pilgrimage as their pastor dipped them into the swirling water.
Throughout the week, there were many sites I would have missed altogether were it not for Ruthie. In Israel, guides are licensed, and must pass rigorous tests in history, culture, and archaeology. Driver/guides typically charge about $350 a day with lodging and meals extra, and can be hired through www.tour-guides.co.il and www.israel-guides.net.
Dress for access
An experienced guide also can smooth your way into the inner sanctums of holy places. But never forget that holy places, especially in the Holy Land, come with their own set of photographic rules. And none is more basic than a dress code.
My work uniform is both respectful and functional: Lightweight leather shoes with rugged soles are dressier than sneakers and comfortable for long hikes. Synthetic khaki pants that zip into shorts are likewise more formal than jeans, and, if you wade into the Jordan River, they dry a lot faster, too. Some lightweight ExOfficio shirts, besides being insect- and sunproof, have zippered pockets perfect for quick access to a spare battery and memory card. Long sleeves are recommended, particularly in Buddhist countries where the etiquette inside temples is to cover bare arms.
Hats, too, can play a role, as I discovered in Israel on the morning I photographed at the Western Wall. A good floppy bush hat not only keeps the sun out of your eyes, it can also make or break your shoot. "Keep your hat on," Ruthie whispered as she sent me down to photograph the bar mitzvahs at the Western Wall. "They won't let you in without one. Religious Jews cover their heads as a sign of respect. It reminds them that God is always above them."
Keep the change
Macduff Everton, a contributing editor at National Geographic Traveler, has spent four decades focusing his lenses on the Maya. Early in his work he found himself in a quandary. He says, "When the Maya first began buying wristwatches and transistor radios, I thought, 'Do I try to make this image look like it was taken 1,500 years ago, or do I try to capture the incursions and change?'"
He opted for the latter, and in doing so created a rich photographic record of a people whose history was evolving at light speed.
It was a dilemma that nagged at me when I went into the Negev Desert to meet nomadic Arab Bedouins with Adam Sela, owner of Challenging Experience tours (www.adamsela.com). Sela shook his head when I described what I envisioned: robed men sipping tea in goat-hair tents, tasseled camels hitched to palm trees.
"That's Hollywood," he laughed. Instead, the tents were burlap, and the patriarch had traded his traditional robe for jeans and a T-shirt. We sipped coffee made from beans pounded in an old howitzer shell casing and sat before the gaze of a dusty television. It was real history, but it wasn't postcard-pretty.
Here and now
In the end, it doesn't matter so much what you photograph when trying to bring history alive — real or as you imagine it should be. What matters is that you care about each picture.Raul Touzon, a documentary shooter whose work has appeared in National Geographic, once told me that when we try to bring history to life, we have a responsibility. "We are able to see the Paris of the 1940s because of Cartier-Bresson, and Mexico during the Revolution because of Casasola," he said. "At the end of the day, the simplest things you shoot are history — that Pizza Hut next to the cathedral. It's a moment in time that will never happen again."
I thought about that during my last hours in Israel, in a hotel room overlooking the seaside city of Tel Aviv. I had already cleaned and packed my cameras, downloaded, captioned, and copied my images to backup drives. Dusk had fallen. Below me was a brightly lit mosque; beyond it Tel Aviv's skyscrapers twinkled. I was hoping to catch a few hours of sleep before my flight.
But here was this magical moment, the old and the new, the slow-shutter blur of traffic, an unexpected moment in time when history and beauty and reality all converged. I unpacked my Nikon and tripod.
Sometimes, bringing history to life is hard work, full of early mornings, endless research, patience, and sweat. But, if you're available for the moment, it can be very, very easy.
For details on visiting Israel, go to www.goisrael.com or call 888-774-7723. El Al is the national airline: www.elal.co.il or call 800-223-6700.