2014 Popular Photography Holiday Gift Guide
No cute categories, no kitschy knick knacks, just real gifts that actual photography enthusiasts want to open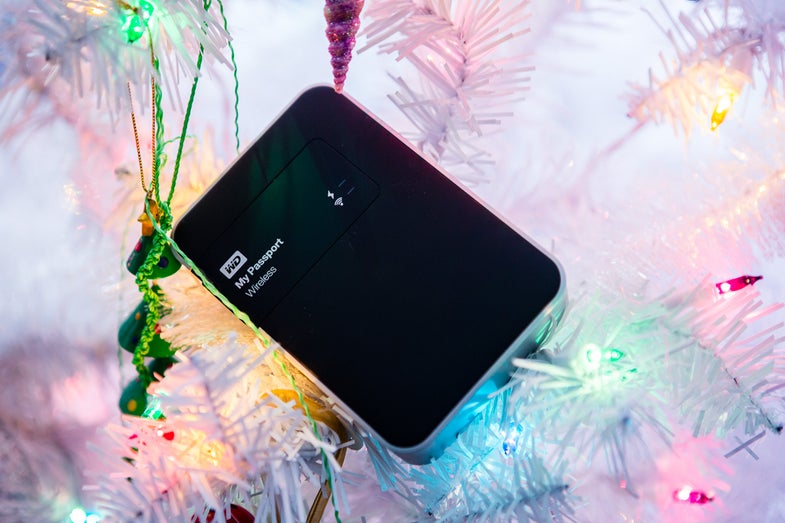 Buying gifts for photographers can be tricky, especially if you're not photographically inclined. It also doesn't help that other photography-based buying guides are cluttered up with impractical suggestions like camera bodies and kitschy nonsense like camera-shaped cake pans. If you're looking for a real gift any photographer could appreciate, here are some options that won't end up discarded int he bottom of the gear closet.
WD MyPassport Wireless $129 and up
Soon, everything will have Wifi in it. Or, at least it should. WD's latest portable hard drive is meant for doing work in the field and has a few features aimed specifically at photographers. The Wifi allows you to sync up with a computer or mobile device and send files wirelessly. That means, you can back up photos from your phone without needing to connect it to your computer or rely on a cloud system. It also means you can watch movies on your mobile device while streaming them from the drive, leaving free space on your phone for photos. You can also plug it in and send your files via a USB 3 connection.
There's an SD card slot built right into the side of the drive, and you can set it up so any files that are on the card will immediately be transferred to the drive for redundancy in the field. It's all battery-powered, too, so you don't even need a power sours to make it go.
Peak Design Clutch Hand Strap $40
If you're still using the strap that came packed in the box with your camera, you might be missing out on some carrying options you never even knew about. The Clutch is a typical hands-strap that's meant to give you a very firm grip on your camera while still allowing you to access all the controls. It attaches to the strap loop on the top, then uses one of Peak Design's tripod plats to firmly attach to the bottom. You can easily remove it or clip it into a tripod if you need to, which is atypical of a hand strap. It's also built incredibly sturdy and is easily adjustable so you can make it fit your hand, no matter how big or small.
VSCO Film Pack 06 $119
If you're not familiar with VSCO, they make some of the best film emulation editing presets around. Basically, you install the extensions to your Photoshop or Lightroom apps and then you can select from looks that emulate all kinds of well-known films. Version 06 takes some of those familiar film stocks and tweaks them, emulating cross-processing, pushing, and pulling. The results can be very impressive and, even if you're not a huge fan of "applying filters" they can give you a great starting point for making tweaks of your own.
Film Pack 06 includes films like Ilford's HP5 black and white film, as well as the popular Kodak Portra 160 and 400 stocks. You even get the classic Tri-X black-and-white look if you're a fan of contrast and grain. And frankly, who isn't?
Adobe Creative Cloud for Photographers Subscription $119 Yearly
When it comes to photography, editing is a crucial part of the process. Adobe's Creative Cloud deal for photographers includes full access to Photoshop and Lightroom. Don't let the Cloud in the name fool you, the apps still get installed onto a computer, but the subscription-based model allows Adobe to push out new features and updates on a much more frequent basis.
It's a solid deal on some extremely powerful editing tools, so in a way, it's like the Jelly of the Month Club. It's the gift that keeps on giving.
JBL Charge 2 Wireless Speaker $149
I know, it seems a bit weird to have a Bluetooth speaker show up on a gift guide for photographers, but there's a method to this madness. Music can do a great job setting the mood for a shoot, and with a wireless speaker and a Spotify account, you can pretty much be ready for anything. As an added bonus, the JBL Charge 2 can use that big, built-in battery to charge up your other devices while you play music. So, if your phone or iPad start to die because you're using them to remotely control a camera, you have some extra juice as a backup.
MeFoto BackPacker Tripod $139
In our current climate of sky-high ISOs and excellent image stabilization some shooters take tripods for granted. But, for some shots, there's just no replacing those rock solid legs. MeFoto's BackPacker is just 12.6-inches when folded up, but extends out to 51.2-inches at full height. It also comes in a whole variety of colors, so if you're bored of everything being black, you can go out on a limb and pick lime green or purple. Even if your giftee has a big, serious tripod already, this one acts as a great backup.
GoPro Fetch Mount $60
OK, so this one is pretty specific in that the person receiving it needs to have both a GoPro and an awesome dog, but when those two line up, this is pretty much the perfect gift. The soft straps and padded mount let you attach a camera on a dog's back or up under their chest depending on the point of view you want to achieve.
It's very adjustable, so you can adapt it to make the dog comfortable and make sure it stays tight while they're running around. It fits dogs from 15 pounds all the way up to 120 pounds,
There's also a Sony version for their action camera, so the canine fun isn't limited just to GoPro Users
Seagate 2-Bay NAS Drive $349
Buying someone data storage as a gift can seem like the photographic equivalent of buying someone tube socks. But, storage is essential, and a network attached system like this one can help prevent serious digital melt downs.
The housing has room for two or four d drives, so you can go anywhere from 2 TB all the way up to 10 TB if you're feeling spendy. You can set up the drives to use all the storage or arrange them in a RAID array to mirror the data, so if one drive goes down, you still have a safe copy on the other.
Manfrotto Advanced Tri backpack $129
A camera is only a great thing if it's actually with you, and daypacks like this one from Manfrotto are a great way to actually make that happen. The bottom section of the bag has enough room for a typical camera set up with a DSLR, an extra lens and some accessories. The top, however, is made specifically to carry all the other stuff you might need on a typical day. There's a dedicated laptop slot as well as a few extra smaller pockets to keep everything organized.
One of the real standout features, though, is the ability to adjust the straps into three different configurations. You can wear it as a traditional backpack, with the straps crossed in an X, or over one shoulder like a sling.
Even if the person you're buying for already has a big gear bag, something like this is a great option in case they don't want to drag all of their stuff with them all the time.
Ondu 135 Pocket Pinhole Camera $95
Pinhole photography isn't terribly practical and the images that you get will often be soft and dreamy, but that's exactly the point. This pocket-sized pinhole camera is extremely attractive to look at, made from wood and small enough to fit comfortably in a small bag (or a big pocket). It uses traditional 35mm film (as the name suggests) so even if your photos don't turn out great due to the pinhole learning curve, you won't be spending tons of money on film.
Even if the person to whom you gift it never uses it, its good looks make it a great conversation piece.
Iris+ Quadcopter Drone $750
Drones are one of the hottest things going in photography and videography at the moment, but the Iris+ has something unique going for it. If you have a GPS-enabled Android device, you can actually set the Iris+ to follow behind you, capturing photos or videos of you in a third person view that makes it look like you're the star of your own video game. You can pre-program flight paths for it to follow using a clever app and, of course, you can still control it manually.
You can attach a GoPro camera to it, but they also sell a motorized gimbal mount, which keeps things steady while you're flying through the air. Consider that a really fancy stocking stuffer.
Lumopro LP180 Quad-Sync Flash $200
Adding off-camera flash to a person's arsenal of photographic knowledge can be a real game changer and there are few tools better than the LP180 flash for learning it. It doesn't do any of the fancy automatic stuff other more expensive flashes do, but that's by design. It has four different methods for triggering, too, so it's about as versatile as you could possibly ask. Plus, at $200, your giftee can probably afford another one down the road if they decide they want to get even fancier with their lighting configurations.
Photojojo iPhone and Android Lens Sets $20-$30 each (or $99 for the set)
Smartphone photography is a real thing and a cottage industry of accessories have sprung up around it. Photojojo makes a whole collection of accessory lenses meant to change the way your smartphone photos look. You can choose from a Wide & Macro, a Super Fisheye, a Standard Fisheye, a Telephoto, and a Polarizer. They're all meant to mount specifically over a smartphone's existing lens. They're easy to put on and take off and they're so small that they're very easy to carry around.
While they might not offer quite the same fidelity as the other higher-end smartphone lenses, they offer a cheap way to experiment, which is something photographers at every level can typically enjoy.
Hoya HD Filter Protector $99
There's a long debate over whether or not it makes sense to put a filter over the front of your lens. In many cases, it's overkill and just putting another layer of glass between the camera's sensor and the subject. But, Hoya's Protector filter does its best to concentrate on the positives while mitigating the negatives.
The surface of the Protector is ultra-hard, using glass they claim to be 4x stronger than normal stuff. They use thin frames so they're compatible with wide angle lenses (without vignetting) and they have 8 layers of anti-reflective coating to help keep down ghosting and other unwanted effects.
Even if they don't use it all the time, they can slap it on when they're out to shoot some dirt biking or even kids playing in a sprinkler. It's nice to have, even if it's not an all the time thing.