Could the Digital Electric Objects EO1 Finally Fix the Digital Picture Frame?
A large, gorgeous, digital art object for your walls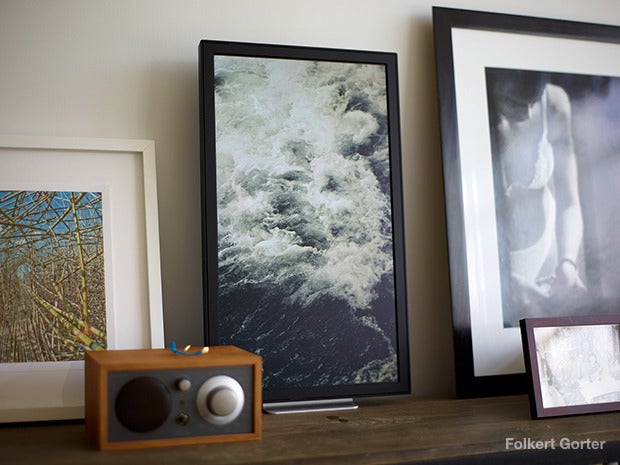 It's something of a mystery why digital photo frames never really took off. Since every person that has a digital camera (or even a smartphone) has countless thousands of photos, the concept of a device that could be changed to show your current favorite of them (or even a rotating selection) seemed to be ideal. Bad hardware and clunky software, however, prevented them from taking off. But now a Kickstarter aims to resurrect that idea of a device to show off digital art, in a bigger and better looking form than ever before. And it's called the EO1.
Made by a group called Electric Objects, the EO1 is a 23-inch, 1080p IPS display, capable of 1920×1080 resolution. It actually has a small computer built in, with a 1GHz processor, three graphics accelerators, 1GB of RAM, and 2GB of flash storage. It'll also be able to connect over Wi-Fi or Bluetooth.
As photographers, we naturally see this as a medium for displaying our own art (even though the 16:9 ratio might not be ideal for some), but EO1 is actually partnering up with a number of other organizations to put art on your walls for you. The EO1 will receive special content from New York Public Library, Behance, Giphy, Musuem Of The Moving Image, Digg, to.be, and undoubtedly more. Since it's a computer screen, you can also use animated art on it, and you'll be able to control it from the web or a smartphone app.
According to a report on the Verge, "Inside is a dual core processor with 2GB of RAM running a modified version of Android that does little more than launch a bare browser window to render images, animations, and web-based visualizations….the current prototype consumes as much electricity each day as the average light bulb, and that even if you leave a single image on for days, it won't suffer from screen burn. "
Even more interesting are some of the plans that the people behind it are working on. It'll do more than just display images—the team are working on Javascrip integration, so that it can display artwork based on a number of parameters. Tie it in to the local weather report, and have it change to match.
The pricing on this isn't cheap. Kickstarter backers can get in at $299, with it expected to reach $499 at retail. And doubtless, the more enterprising among you could probably put together their own version out of a display, a frame, and a microPC or old Android device. But for the rest of us, the concept of such a gorgeous piece of hardware, that's easy to use, and can display just about anything, is a pretty big draw.