Kickstarter: Bowerbags Modular Bag System
Bowerbags acknowledges the need for a better, more intuitive bag system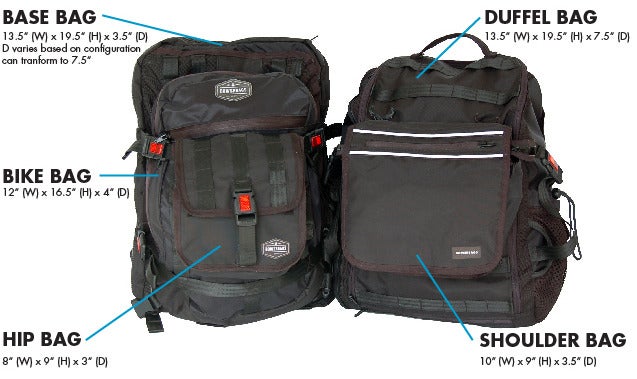 _**Update: **Bowerbags co-founder Josh Crandall has confirmed with me that a camera gear-specific bag is in the works, and will be released with the next round of "accessory bags."_
We recently came across an interesting Kickstarter by Bowerbags, for a completely modular bag and backpack system. It's aimed at active individuals who need something that can transform and increase/decrease in size with ease, depending on the situation. This seems particularly advantageous for photographers who typically need to pack both camera gear and personal items for a trip.
While not specifically aimed at photographers, these bags could easily be used for lugging gear with the addition of some padding. For the Kickstarter, Bowerbags is offers five differently sized units, that can all be mashed together in a variety of ways thanks to some clever, integrated buckles. The five bags include a base bag, duffel bag, shoulder bag, bike bag and hip bag. The base bag for example can be used as either a backpack, messenger bag, or briefcase-style bag, thanks to the ability to easily rearrange and remove straps.
Modular camera bags aren't a totally new idea. Lowepro's Street and Field series lets you attach different accessories and compartments to their base bags in a way that's kind of similar. But, this system does seem pretty intuitive. Would you be interested in a camera-specific attachment?