New Gear: Blackmagic URSA 4K Camera Has Upgradeable Mount, Sensor
A production-quality cinema camera starting at $6,000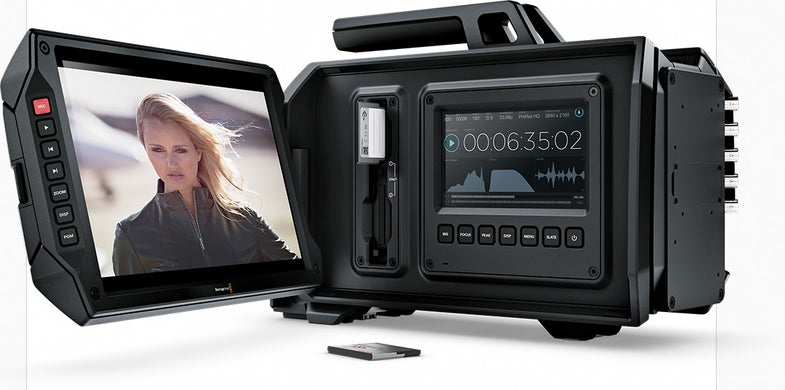 The cameras used to make major movies and TV shows can cost hundreds of thousands of dollars. Seriously, check out the Arri section on the B&H website. But, Blackmagic has always strived to make high-end movie-making more affordable. Their new URSA camera starts at just $6,000 and offers a camera they claim will be right at home on massive productions.
The camera comes with a Super 35 sensor that has 12-stops of dynamic range and shoots 12-bit raw images in Cinema DNG. The sensor is part of a modular "turret," which also includes the lens mount, so you can use the EF mount Canon compatible lenses or a PL mount for more film-specific glass. It's similar in concept to the Ricoh GXR camera system, which was built for still photography.
The camera body has a 10-inch screen that folds out for setting functions and viewing footage.
Since it's built for big productions, the URSA has all the bells and whistles you'd expect for a camera that's built to be part of a rig. They've also put a lot of thought into how it will be operated, giving each user a "zone" so the director of photography won't always be crashing into the audio engineer.
It captures footage to CFast cards and has a clever, smaller touchscreen display to handle control over common settings. It also uses global shutter rather than rolling shutter, which gives it another very distinct advantage over DSLRs for high-end shooting. No jiggle footage.
While this is still likely well outside the reach of even most enthusiast users, it's amazing to see how far true production-grade cinema equipment has come.