Sony Offering $300 Off an A7 or A7r If You Trade In Any Other Camera
Old, broken, pinhole, disposable. Doesn't matter.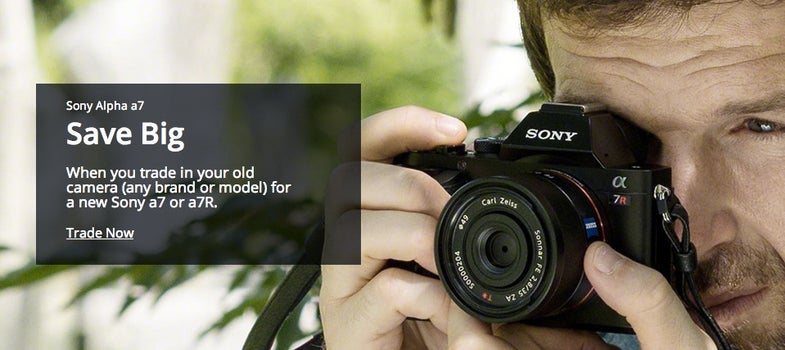 Sony's newest attempt to get people to invest in the A7 and A7r is an impressive rebate deal. Trade-in any old camera you have, and get $300 off a huge variety of kits. What makes this so special is that when Sony says any, they mean any. From the sounds of things, that means cameras from any manufacturer, in any state (including broken), and of any type. If Focus Camera is to be believed, you can even trade in disposable and pinhole cameras for the deal.
So far, we've spotted the deal up at B&H, Adorama, and Focus Camera—but we're betting it'll be at other retailers, too. If you go through Adorama, you'll get $300 back, $50 Adorama gift card, an SD card, a bag, and three year service warranty. Focus Camera is offering the $300 back, a copy of Lightroom 5, and for some bundles a $50 gift card. [Editor's Note: Here is the proper link for the B&H deal not originally included in the article. -SH]
Sony's not the first to offer a significant trade-in for old and busted gear. The Canon Loyalty Program would allow you to turn in Canon gear that was either broken or out of warranty towards 20% off of refurbished gear, which could be worth more than $300. But Sony's deal is notable in that it's for literally any camera you can get your hands on. So if you see a junker in a goodwill shop for $3, that could save you a couple of hundred off one of the hottest mirrorless cameras currently available.