What's Inside National Geographic's Tomas van Houtryve's Gear Bag?
It's very different from what you might expect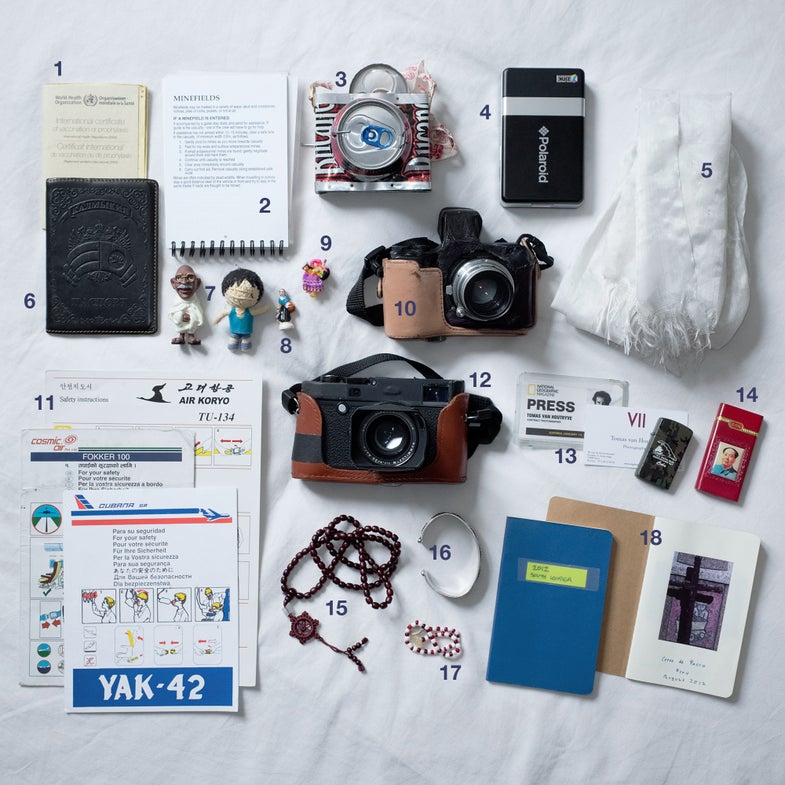 We may earn revenue from the products available on this page and participate in affiliate programs. Learn more ›
Usually, when you get a glimpse at what a pro photographer takes with them on the field, the results are fairly foreseeable. A pro-level body or two, a suite of high-end lenses, as many spare batteries and memory cards as they can fit. But Tomas van Houtryve's gear bag is very different, and he showed it off for the National Geographic Artifacts blog.
There is remarkably little camera gear in van Houtryve's bag, instead he opted to show off a series of small objects he kept while shooting his seven-year long series Behind the Curtains of 21st Century Communism. The photo gear he did show off included a toy camera replica made out of beer cans, a Ricoh GXR mounted with a 50s era Leica 50mm lens, a Leica M with a 35mm lens, and a small Polaroid PoGo printer that he used to make prints to thank people for their help.
Now, there may be more to his photography kit than this. As the blog post mentions, " [he] dumped out his camera bag, removed a bit of gear to balance out his knick-knacks, then laid them all on sheet in his Parisian apartment." So you're not seeing memory cards, battery chargers, or other such gear here. But even so, it's a vivid departure from the usual 5D Mark III and L-lenses we tend to see in photographer's bags.
[via Reddit]