Squito Camera Captures 360-Degree Panoramic Photos When You Throw It
This throwable camera comes loaded with the lenses and software to stitch together a huge amount of information just by tossing a ball in the air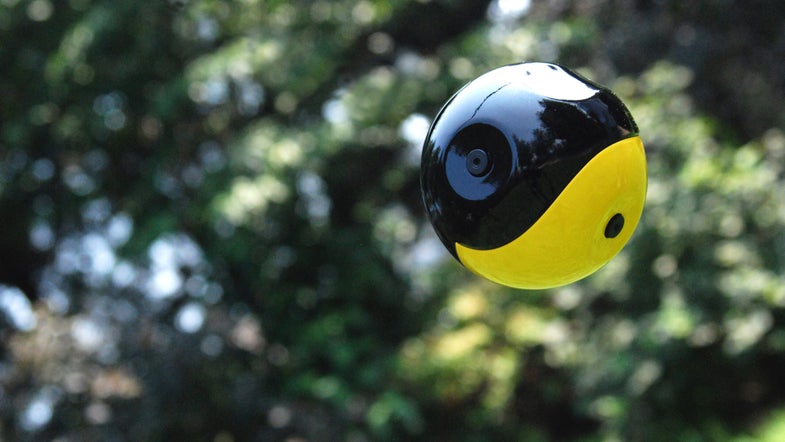 We may earn revenue from the products available on this page and participate in affiliate programs. Learn more ›
The Squito (and its companion device the Darkball) are the products of Steve Hollinger, a Boston based inventor who has managed to finagle video and image feeds from a ball spinning through the air, and turn them into something useful.
While a long way from coming to market, the Squito seems to manage to do something we haven't seen before. It takes a ball shaped camera, covered with lenses. And when you throw it through the air, it manages to stitch together the video and still feeds from all those different angles into a single, usable, stabilized view.
The video below gives a taste of what the Squito is capable of. It's demoed as taking four separate, spinning video feeds to make one coherent one; tracking a single subject as it flies through the air; capture spherical panoramas; as well as stabilize for spin. The companion Darkball is presented as an alternative to use through smoke, fog, or in the dark, with near IR and thermal recording.
Both of these devices would beam the feeds back to another device, and it's not clear if the stitching and tracking would be done on the ball itself, or on another computer.
This isn't the first time we've seen concept cameras like this. In 2011, there was this throwable panorama ball that would snap a pic at the top of the camera's arc. There was also the Bounce, a ball camera designed specifically for rescue and military personal. Since the Squito/Darkball are also potentially being aimed for emergency use, it's going to have to face similar demands of robustness, and be cheap enough to replace that if you have to leave it in a hazardous situation, it's no great loss.
Unfortunately, we have no idea if or when the Squito will be available. But if it's affordable enough, you know we'll want to pick up one, just for capturing airborne panoramas of wherever we happen to be.
[via Engadget]