How One Photographer Captures High-Speed Exploding Bulbs — On the Cheap
High speed photography rigs can be complicated and expensive, but one photographer has captured some absolutely incredible images with an immensely affordable rig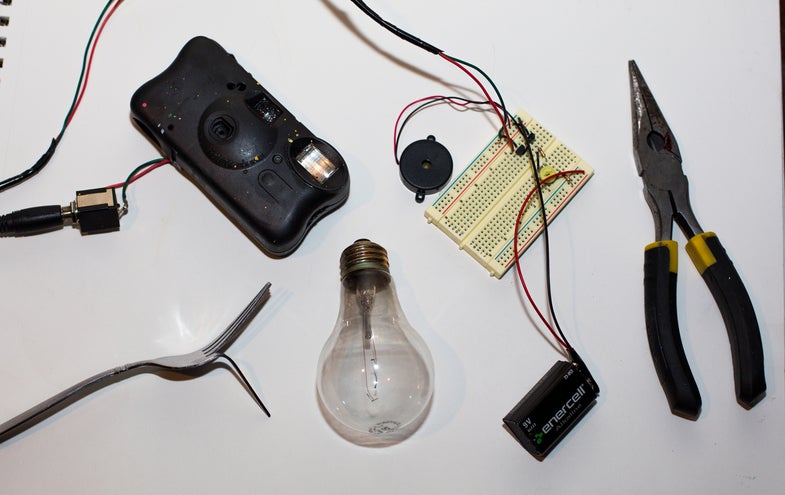 Usually, when you talk high-speed photography rigs, people think complex setups like Tim Tadders uses. But it turns out there are ways to do this that are much more affordable, don't require a room full of assistants, and still provide some pretty incredible results. Like the work of Jon Smith, who fills light bulbs with interesting objects, and then explodes them to dramatic effect.
Smith, who was interviewed by Wired's Raw File, fills and coats light bulbs with paint, glitter, and all sorts of other items, and then shoots them with a pellet gun.
Rather than use an expensive sound trigger and a standard strobe flash, he jury rigged together an alternative. He used an affordable sound trigger from HiViz, and wired it into a disposable camera, which is used as an off-camera flash.
He prefocuses the camera, sets it off on a 10 second delay, hits the light, and then shoots the bulb with the pellet gun. The explosion sets off the sound trigger, which fires the flash, illuminating a long exposure (usually 2.5s), and letting him capture the perfect moment of explosion. It took some experimenting to get right, but he discovered that putting the sound trigger on the opposite side of the garage where he shoots from him, and firing the pellet gun about six inches away from the bulb, gives just about the perfect timing to catch the bulb as it shatters.
If you don't want to have to bother with wiring together anything, TriggerTrap recently updated its app to control flashes, so you could set up a similar rig using your smartphone and a strobe, if you have one floating around.