HP Live Photo Combines Video with Printed Photography
Turn any video into an augmented reality triggering photograph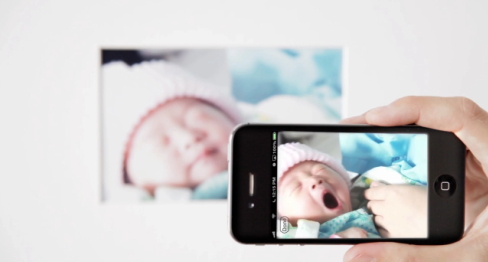 HP isn't making cameras anymore, but they're still a relatively big player when it comes to printers, so their interest in imaging is still pretty strong. Now, they're trying to get people exciting about printing out their photos with a system that uses images as triggers to start a video playing on your smartphone. With HP Live Photo, you record a video on your iPhone, and then the Live Photo app lets you extract a frame that you can print on an HP printer. Anyone with the app installed on their phone can then aim it at the photo, and it'll trigger the video for them, using the photograph as an augmented reality key to start the movie playing.
Right now, it's a pretty restrictive system. It's tied to iOS, needs an HP printer with AirPrint, and a Facebook account, but it's the start of a cool technology. Rather than a clunky QR code or anything like that, this software is able to recognize a normal photograph as the trigger to start playing a short movie, which is a pretty impressive piece of engineering when you think about it. You can also share the images to your Facebook friends, but at that point wouldn't it just be easier to share the video directly?
Things like this are actually already in use in some magazines, including Popular Photography, so if you want to check it out, pick up the latest issue on Newsstands and look for the Aurasma app prompts.
[via PMDA]