The 1:1 Walk-In IMAGOphotour Giant Camera
Imagine a camera so big that you step inside it to take a photo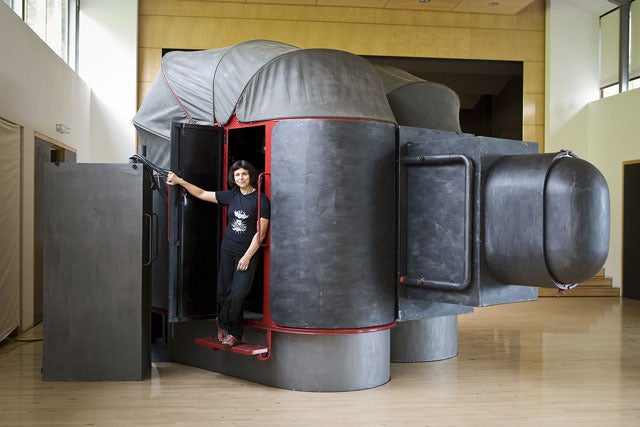 Back in the 1970s, Werner Kraus and Erhard Hößle invented a unique and immense camera, the IMAGO 1:1. This 1.7 ton metal behemoth was an incredible device, a walk-in self-portrait camera that exposed directly on huge sheets of direct positive paper. And now Kraus' daughter Susanna wants to recreate the IMAGO 1:1 to make it more mobile, and take it on a world tour.
Susanna Kraus is fundraising through Kickstarter for the IMAGOphotour, an attempt to redesign and reconstruct the camera to make it slightly more mobile, and then to take it around the world allowing people to take their own incredible and huge photographs. The 1:1 images are then printed directly on 60x200cm (2″x6'6″) resulting in immense and dramatic images.
The redesigned camera will still weigh some 700kg, so Kraus has a substantial amount of fundraising to do to before rebuilding the IMAGO and taking it on the road. She's trying to raise £95,000 — around $150,000. If you're willing to pitch in enough, you can get your photo taken in the machine, either the original in Berlin, or the new one when it goes on the world tour. For £150 ($235), you can get a half portrait, a 60x90cm (24″x36″) version, or £250 ($390) for the full sized thing. It might not be the cheapest family photography session you've ever booked, but you can bet you'll be the only person you know with a six and a half foot tall, brooding black and white snap of your entire family.