New Gear: Samsung Announces 12-24mm f/4-5.6 ED, 45mm f/1.8 Lenses and New SD Cards
At Photo Plus, Samsung has unveiled two lenses for the NX series, as well as an updated range of SD cards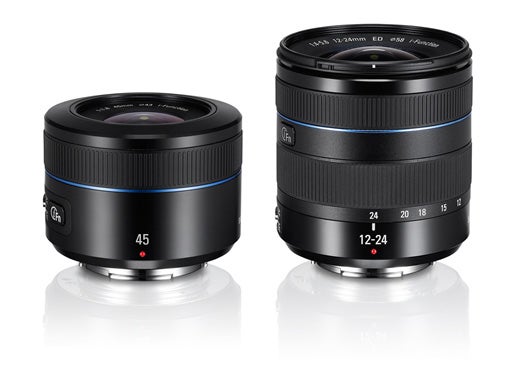 Samsung has announced that it'll be expanding the lineup of lenses for its NX series ILC cameras, adding two new pieces of glass to the mix: a wide-angle zoom, and mid-range prime. Both will feature Samsung's i-Function, which allow you to adjust camera settings by rotating a ring around the lens's barrel.
The Samsung NX Lens 12-24mm f/4-5.6 ED is the 35mm equivalent of 18.5-37mm, and will run buyers $599 when it debuts. With a minimum aperture of f/22, it's constructed of 10 elements in 8 groups (2 Aspherical lens, 1 Extra-low Dispersion lens). Also available is the $299 Samsung NX Lens 45mm f/1.8, which weighs just 4oz. It has a focal length equivalent to 69.3mm, and is constructed with 7 elements in 6 groups, and a minimum aperture of f/22.
On a slightly more prosaic note, Samsung has also boosted it SD card lineup, announcing a new "Pro Series" of SDHC and microSD storage. These new cards can hold up to 64GB, and have transfer speeds up to 80MB/s.
Designed to weather the elements, the pro cards are water resistant, shockproof (up to 3,200 lbs.), and magnet proof (up to 10,000 gauss.) The new SDHC cards will range in size from 16GB-64GB, and cost between $69 and $239 — so far the only microSD version announced has a capacity of 8GB, and no official price.