New Gear: Eye-Fi 16 GB Class 10 Pro X2 SD WiFi-Equipped SD Card
Bigger, Faster, and more connected than ever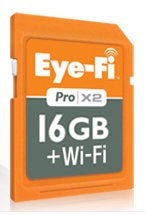 One of the biggest trends in cameras right now is the addition of WiFi and app compatibility. But, Eye-Fi has been giving cameras those abilities for quite some time and now they have a new addition to their Pro X2 series, with a 16 GB card.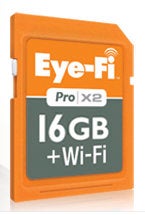 The new card is rated as a Class 10, so it's meant to handle the increasingly rigorous job of capturing HD video spit out by DSLRs, ILCs, and even compacts. the built-in WiFi allows you to beam images to mobile devices or to web storage services like Facebook.
Eye-Fi CEO Yuval Koren doesn't seem too concerned about the new onslaught of cameras with baked-in WiFi. "Camera makers are learning what to do with WiFi and how to do it. We have a lot of experience and a quite broad set of capabilities that they're just starting to uncover." That includes things like supporting the transfer of RAW files, something smart cameras often have trouble with.
He also promises that the Class 10 speed of the new Eye-Fi card will result in improvements in wireless transfers. "We're in the process of characterizing the improvement, but I expect it to be 10-15%." Otherwise, many of the features remain the same. It still offers GPS tagging and universal platform support. While they didn't have anything official to say about a Windows 8 app, it's said that they do have "good relationship" with Redmond, so that's likely coming at some point, too.
The new cards will be available soon for $99, which is the same price as the previous card, which was only 8 GB and class 6. We'll have a review soon, so keep an eye out.