New Gear: Manfrotto Klyp iPhone Case With LED Lights And Tripod Mount
The renowned accessory maker will be selling iPhone cases for $30 and up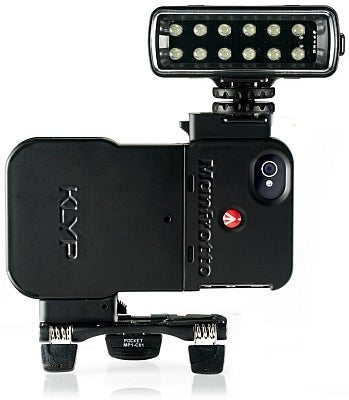 Earlier this month, Manfrotto announced the Klyp, and iPhone case designed to hold bright LEDs and attach to a Manfrotto tripod. The official pricing for the device in the USA has just been unveiled, and it'll set you back between $29.99 and $199.99, depending on what fancy options you'd like.
The Klyp case allows for two adaptor clips to be attached at any of four points around the body of the phone, giving you the opportunity to mount the lighting and tripod adapter in whatever configuration is best for your shooting. Just the case on its own, with two adapter clips, will set you back $29.99.
However, if you want to start including more Manfrotto hardware, the price starts to climb rapidly. The case plus a small ML120 LED light will go for $69.99, and adding a Manfrotto Pocket tripod bumps that to $89.99. If, on the other hand, you want some more powerful illumination, the ML240 version will go for $99.99, or $199.99 with the tripod.
There is, however, one major downside to the Klyp case — it only fits the iPhone 4 and iPhone 4S. Users of the new iPhone 5 are unfortunately out of luck, unless an updated version is released in the very near future.