What's New: The iPhone 5 Camera
An updating account of the photographic upgrades on the new iPhone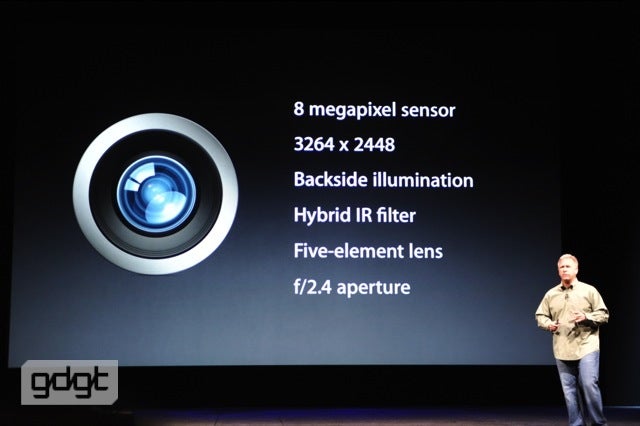 As you probably know by now, the iPhone 5 is being birthed as we speak. Tim Cook has just gone over some of the specifics on the camera front and it doesn't look like a huge update unless something else big is coming.
The camera itself uses a familiar 8-megapixel backside-illuminated sensor with a maximum still resolution of 3264 x 2448. The lens now has five elements, but maintains the F/2.4 maximum aperture. It does, however, get a new sapphire crystal front element to protect the lens and hopefully fend off fingerprints and other pocket grime that tends to muck up pictures.
Cook says that they've made the camera better, but it sounds like a lot of that has to do with the new, more powerful A6 processor. They're claiming a two-stop improvement in low-light, but it's not quite clear what that actually means. It uses spacial noise reduction, though, and will capture photos quicker, which is always welcome when it comes to phone cameras.
There's now a native Swipe Panorama mode, which creates ultra-wide, 28-megapixel panos with a simple camera movement. It sounds a lot like Sony's excellent Sweep Panorama mode.
Video does 1080p capture, but they claim to have improved the image stabilization (it's done digitally as there are no moving parts to make up for your shaky hands). It also has face detection for tracking people during videos.
So far, it's pretty granular, but the camera in the iPhone 4s was actually very good, so it makes sense that they'd stick with it for a bit. We'll update this post as more comes out. If it comes out.
The front-facing camera has gotten some upgrades as well. It's now a 720p HD camera and can do Face Time over cellular. Now that it has LTE data, it's probably very nice, but likely to chew up your entire data plan pretty quickly. Though, if you're on WiFi, it might be pretty awesome for live video broadcasts.
Check out GDGT if you want neurotic real-time updates about the announcement. Check out our friends at PopSci if you want a live blog of the live blogs.