Ilott Vintage Gives Classic Cameras New Life with Gorgeous, Pricy Wood Veneers
Old cameras as a fashion accessory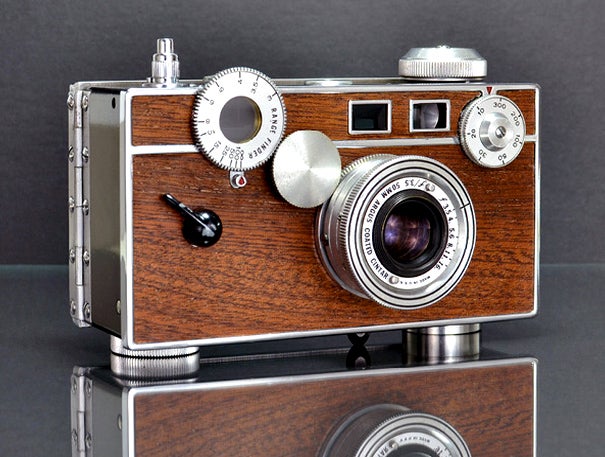 Ilott Vintage is a company that takes classic rangefinder cameras like the Argus C3, Canonet and Konica S2 and refinishes them with beautiful custom wood veneers like Mahogony, Walnut and Mansonia. Their results are nothing short of beautiful. As you can see from the photo above, the wood is used to replace areas where leather or plastic grips once were.
As with most projects like this, though, the style doesn't come cheap. An Argus C3 with mahogany veneer sells for $1,875. Considering I recently picked up the same camera, (without the veneer of course) on Ebay, in terrific shape, for $25, these cameras are surely a luxury item.
Ilott does however professionally test and refurbish all cameras, so you know what your getting will be in tip-top working order, but still, that's a steep price to pay for a camera, like the Argus, or Canonent, which are very easy to come by in good condition.
So until companies like Karvt get into the camera business, you'll have to settle for just looking at these beautiful custom classics on the Web.
Check out a complete listing of Ilott Vintage's stock HERE, but try not to drool too much.