Inside the Camera Bag: What I brought to Cairo, Egypt
Preparation is the key to any successful photo trip, especially when you're going somewhere volatile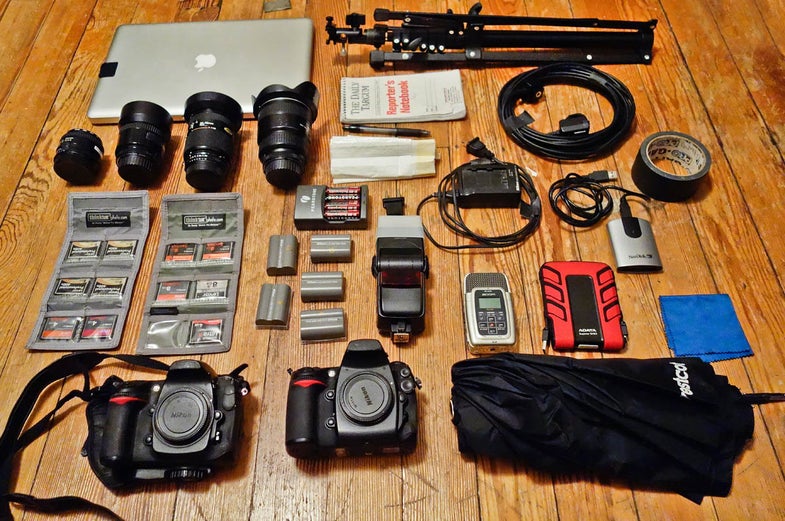 I recently embarked on a two-week trip to Egypt to photograph the nation's first democratically held elections and interview those who had actively participated in last year's revolution, as well as to just enjoy some time outside of the USA. It was my first trip of this kind and of this magnitude and while I didn't have a specific assignment, I did have a few clear goals for my work. I wanted to capture three types of photos portraits, street photography and photojournalism (specifically of the elections and protests that ensued after).
The diversity of the photos I was going for, coupled with the nation's volatile state (after all, there is no government) meant I needed to plan for anything, both figuratively and from a photographically standpoint. Because I would be moving around the country, and staying in a wide variety of places, I wanted to travel light, but I needed to make sure I had the right gear, as well as back-ups in case something broke. Here's a breakdown of my kit, as well as a list of the stuff I wish I had brough and the gear I wish I had left at home.
What I brought:
Nikon D700
This was the primary camera I used during the trip. It is a small camera (compared to the D3), yet has a full-frame sensor that does great in lowlight conditions. I kept this around my neck 95% of the time.
Nikon D300
I brought this specifically to sit with my luggage as a backup camera, just in case I had a problem with the D700. I always left it wherever I was staying with an extra card and battery. I did, however end up using it while documenting protests in Tahir Square as a secondary rig with an 85mm lens affixed to it (120 equivalent).
Nikon 24mm f/2.8 D
This was my primary lens and I used it nearly 75% of the time (affixed to the D700). It is one of Nikon's smallest lenses, making it perfect for moments you want to go unnoticed. The wide focal length gave me plenty of frame to work with, and the D700's resolution gave me a little more room for cropping. This lens is also great for shooting from the hip in crowded markets and streets.
Nikon 35-70mm f/2.8 D
This is an extremely versatile and sharp piece of glass. However, because of its size, I opted to leave it in the bag in most cases and shoot with the 24mm instead. I did, however use it in some of the more touristee areas when going unnoticed wasn't a priority.
Nikon 85mm f/1.8 D
I used this lens mainly for the portrait series I was working one and occasionally when I wanted a nice tight crop.
Nikon 17-35mm f/2.8 AF-S
This is a bulky wide-angle lens that I ended up keeping in my bag the entire time, along with the Nikon D300. It turned out that the 24mm proved to be wide enough in nearly every situation.
Macbook Pro 15″
While I had limited to no Internet access the entirety of the trip, I brought my computer along to back up cards every night.
Adata Superior SH93 500GB Rugged Drive
Rugged drives are always a good investment when traveling. Every night, before going to sleep, I backed up my cards in individual folders on the drive.
Two CF card wallets with 8 8GB cards and 4 4GB cards
I brought enough memory cards so as to not have to format any of them at any point. This meant I had both a flash backup of all of my photos as well as a backup on my rugged drive. Once a card filled, I simply turned it backward in the wallet. I also carried the card wallets with me at all times and left the harddrive with my luggage, meaning all of my images were in two different physical locations at once.
Nikon SB 600 with a Westcott bounce umbrella, lightstand and 50ft sync cable
I opted to bring the bare necessities to do single-light portrait shots. This I packed in my suitcase, although occasionally carried with me in my backpack.
Kata DR 467 Backpack
I was able to keep all my gear on me for the entirety of the trip (minus the D300 and 17-35mm lens), without throwing out my back. I also used the bag as my carry-on for the flight to and from (always carry your gear on board!)
5 Nikon EN-EL3e Batteries
Thankfully both the D700 and D300 use the same exact batteries. I charged these guys every chance I got.
Other things I brought include:
A memory card reader, a reporters notebook, an audio recorder, Gaffers tape, a microfiber cloth (wiped down my gear nightly), a couple of garbage bags (just on the very off chance it rained), 4 rechargeable AA batteries for the flash, and a converter plug.
Note:
Before embarking on a trip anywhere with your gear, make sure it is insured. Many homeowners and renters insurance policies do cover your gear, anywhere in the world, but double-checking is wise.
In addition, it is wise to tape the logos on your gear with Gaffers tape when traveling anywhere new. Often times, thieves will recognize a specific brand based on a logo. Don't let yourself be a target.
What I didn't need:
Nikon 17-355 f/2.8 AF-S
The 24mm proved to be just wide enough for my needs. In addition, this is a rather bulky, large lens that screams, "I am a photographer".
Macbook Pro 15″
A much smaller computer would have done fine. I found this to be bulky and generally annoying to carry around.
What I wish I had brought:
A longer lens
This would have been very helpful when shooting polling locations from an abandoned balcony across the street.
A tripod
There were a couple times this would have been helpful, but overall, I decided it was to heavy and bulky to travel with.
What I'm glad I had:
24mm f/2.8
I really developed a strong relationship with this lens over the course of the trip. It is incredibly sharp and versatile.
SB 600 and lighting equipment
This gave my portrait series some versatility. While I generally tried to shoot with window light, the flash proved invaluable in the evening time.
Nikon D700
The low-light performance meant I never had to use a flash (other than for portraits).
Plenty of memory cards and a rugged drive
It's nice having two backups.
Plenty of Nikon batteries
I likely could have gone the entire trip without charging my gear. Thankfully, I did not have to. However, when traveling abroad, especially to potentially risky areas, having access to power is not always a certainty. For that reason I am happy I had so much power to work with.
Traveling abroad in the name of photography is an incredible experience. The level of uncertainty that comes along with going somewhere new is both exciting and sometimes scary. However, thanks to some careful planning, and gear carrying practices, you too can ensure that no matter what, you are going to come home with the shots.
Fortunately for me, I made it home with all of my equipment intact and a solid 4500 frames to call my own.