Photo-Sharing Site 500PX Gets a New Look, Photo Market
Flickr isn't the only site getting new stuff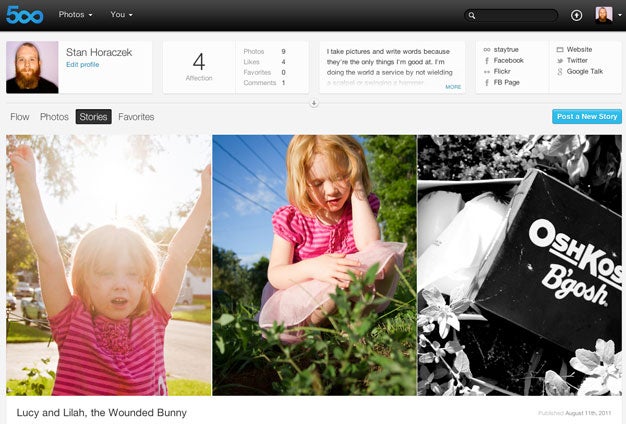 Earlier today, we told you that Flickr was going to be getting a new look and some new features, in part because of pressure from up-and-coming sites like 500PX. Well, the new guys apparently aren't keen on letting Yahoo's behemoth catch up, as 500PX got a serious facelift of its own today.
If you're already a 500PX user, it should be immediately obvious that it has gotten a visual update. The main page is now populated with photos in varying sizes and orientations, not unlike the quickly-growing Pinterest. Though, this version feels less cluttered and gives bigger previews of the images. Other sections of the site, like, Popular and Editor's Choice keep the square grid pattern, but it seems likely that it will all be unified under a single style eventually.
The profile pages have been updated as well, and the stories (blog posts) have been given more prominent placement. They have also included some functional tweaks, including the ability to add images you've already uploaded without having to upload them again, which is something I've personally been hoping for.
Also new is the Market, which allows customers to buy HD digital downloads of images for $299 or rather large canvas prints of the photos for $500. Presumably, there will be more options in the future if the program proves to be successful. The rates of pay for photographers varies from $200-$250 on canvas prints and works out to $2 on digital downloads. The store, however, is something you have to opt into, so that might not affect you at all.
The site is still a little slow at the moment as it recovers from the code push and endures the crush of traffic from people who want to come and check out the new arrangement. But, they say things should be running back at normal speed soon. Seems like an upgrade so far and I'm glad to see a relatively new site being so proactive about adding new features and fine-tuning the design.