New Gear: Samsung DV300F Has a Front-Facing LCD, WiFi
Two screens and a wireless connection help this compact take aim at the smartphone set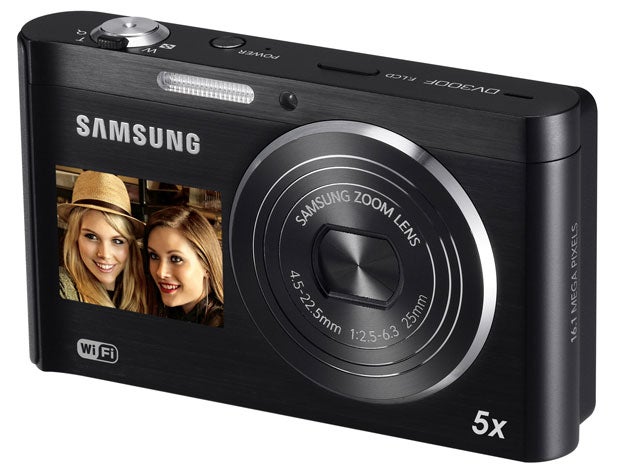 I've always given Samsung credit for being one of the few camera manufacturers that actually gives their compact cameras native WiFi support. The latest compact to get the wireless treatment is the DV300F, which is one of their DualView cameras with two LCD screens.
The camera itself is a 16-megapixel affair with a 5x optical zoom lens starting at 25mm (full-frame equivalent). Like with the other DualView cameras before it, the DV300F is equipped with a 1.5-inch LCD display on the front of the camera for taking self-portraits and for displaying cute pictures of clowns in hopes of making babies look at the camera. The back has a 3-inch LCD, which you could also use for clown faces if you really wanted to.
The WiFi connectivity lets users upload photos directly to Facebook, Picasa, Flickr, and YouTube for videos. It also uses its connectivity for wireless PC syncing and uploading to cloud services like Microsoft's SkyDrive. Local images and video are stored on a microSD card, which is likely also another element influenced by Samsung's robust mobile phone segment.
Because it's aimed at the more casual, snapshot crowd, it also has a variety of novelty shooting modes, including wacky backgrounds and a picture-in-picture feature.
What's really interesting about this camera is how clearly it's actually aimed at smartphone shooters. With WiFi connectivity and a heap of relatlively wacky shooting modes, it does everything people would typically do with a cell phone camera, only with 16 MP of resolution and 5x real optical zoom, it likely does it a fair bit better. Hopefully we'll be able to check it out at CES next week.