MicroOLED Squeezes 5-Megapixels Into a Viewfinder Display
Will a 2560x2048 0.61-inch display finally equal a traditional viewfinder?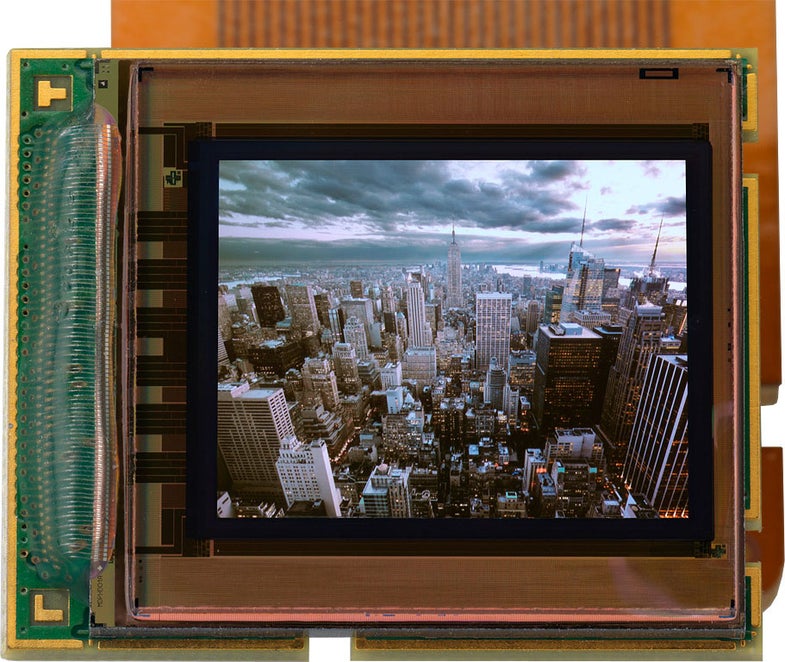 The electronic viewfinder has long been the poor cousin to the optical viewfinder — sticking a small, pixelated screen against your eye has never really compared with the perfect visually fidelity provided by an SLR's viewfinder. But now the French company MicroOLED has announced a new display that's promising an astonishing 5.4-megapixels in just 0.61-inches. There are, of course, a few caveats. That insanely high 2560×2048 resolution is only with the greyscale version, and if you want 16 million colors, you're saddled with SXGA (1280×1024). That's still plenty powerful, though, and beyond Sony's current 1024×768 EVFs that you see on the likes of the NEX-7.
What's also very interesting is that MicroOLED claims that the pixels are packed in so densely that they've completely eliminated any gaps. The resolution is so dense, that you won't see any darkness peeking between the dots on the screen.
MicroOLED is planning on marketing the display for night-vision displays and military applications, head-mounted displays for surgeons, and most promisingly for us "professional camera and camcorder equipment."
The questions that now remains is how much the system will cost, and how long before we see it begin to hit consumer cameras? And will it live up to the expectations, and finally give ILCs a viewfinder that's the equal of an optical?
[via Imaging-Resource]