This Is The Camera Gear One Reuters Photojournalist Brought to War
What sort of gear would you take into a conflict zone?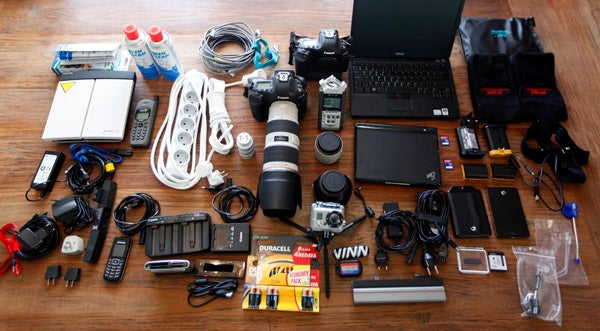 When photographer Umit Bektas was sent to Afghanistan as an embedded journalist, he had a chance to pull together all the gear he would need to take photos and transmit them out while in a warzone, and what's astonishing is how little of it is photographic equipment. Compare it to what two photographers took the royal wedding, and Bektas focused far more on backups and batteries than on lenses and bodies. Bektas took with him three bodies, what look to be just three lenses, satellite internet and telephone devices, two laptops, spare batteries galore, and plenty of cables. As he explains, "as I would not be able to carry large lenses, I packed a converter, chargers, cables, memory cards, cleaning kits and adapters."
In addition to photographic gear, Bektas also had to carry body armor, a helmet, sleeping and outdoors equipment, and clothes. With all those absolute essentials required, the camera and lenses take up a relatively small amount of his space and gear. Without the luxury of hotels, laundry services, and stable internet, other things take priority over stuffing half-a-dozen zooms in your bag. Conflict photographer Benjamin Lowy talks a bit about what gear he takes with him in an interview we had with him earlier this month, and it's a fine balancing act of what you're able to take with you into such a dangerous situation.