The Disney AppClix Compact Plugs Straight Into Your iPad
Why use USB when you can plug straight into an iPad?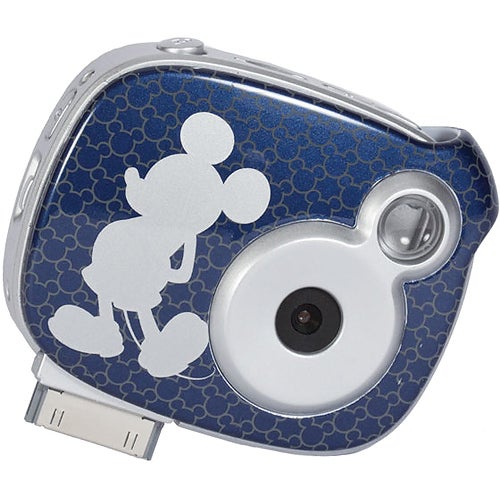 We may earn revenue from the products available on this page and participate in affiliate programs. Learn more ›
This little children's compact camera generally wouldn't make much news. It's made by Vivitar with Disney characters slapped on it, has a 7MP sensor, a microSD slot, a 1.5-inch LCD, and will set you back just $60. So it's like many of the other branded kid's gadgets out there — cheap. But what sets apart this camera is that it comes with a built-in iPad dock connector. You can plug it directly into your iPad — and assumedly your iPhone — to transfer the images across, removing the need for an intermediary computer or adapter, and allows you to edit directly on the iPad.
Unfortunately, there aren't a lot of details about this gadget. We know it's being sold in conjunction with the free Disney Pix app, though assumedly the pictures can be edited with anything else too. It does have a microSD slot, so you can use it with your normal card reader. Some reports claim that you can use it while it's still plugged into the iPad, effectively replacing the remarkably average built-in version.
Is this the beginning of a trend moving away from industry standard connectors into proprietary ones? Sure companies like Samsung and Sony are known for demanding their own plugs, but it's not often you see a third party kowtow to this, especially choosing a plug that only works with one or two devices. I wouldn't look to Vivitar as being the point of a new trend, but the concept of slapping a new camera on your iPad is an interesting one — as long as you don't mind it hanging upside down from the bottom of your tablet.
[via Gizmodo]