Hands-On: Samsung NX200 Is An Interchangeable-Lens Compact Camera With an APS-C Sensor
A new body and four new lenses come to the NX line-up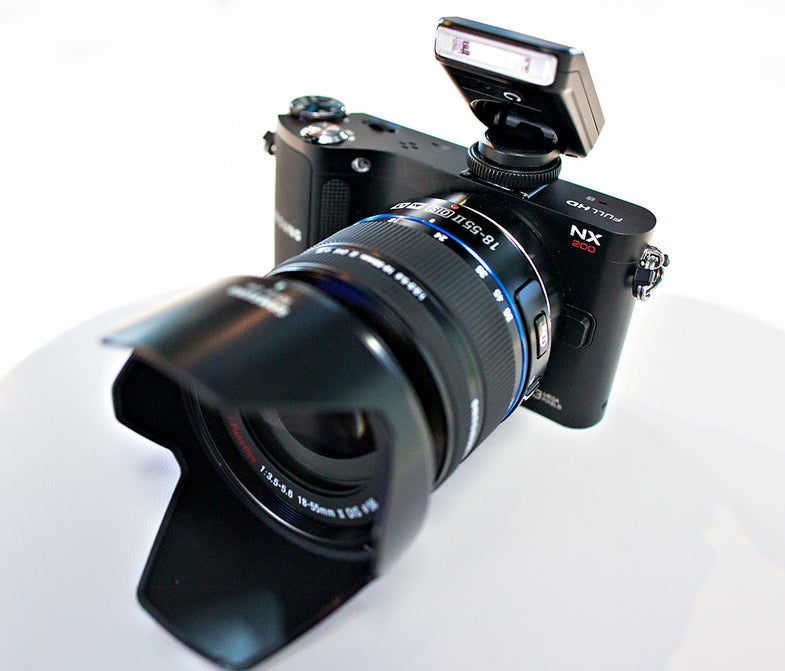 Samsung revamped its NX line of ILC mirror-less cameras today with the more ergonomic and all around versatile Samsung NX200. Offering a 20.3 MP backside illuminated CMOS sensor, 1080p HD video capture (30fps), a 7 fps burst and impressive ISO range of 100-12800, Samsung has once again doubled down on their ILC line.
What's New:
In comparison, the NX100 offered a 14.6MP sensor, 720p HD video capture, 3 fps burst and an ISO range of 100 to 3200—so right off the bat, the NX200 is a VAST improvement over its predecessor.
In the ergonomics department, Samsung decided to drop its slippery and somewhat awkward "dew droplet" design for a far better-weighted and all-around more grippy design. It is also the first time that Samsung has incorporated a full metal body into one of its NX cameras. We had the chance to spend some time with the NX200 last night (check out the video below) and found that it sat comfortably and securely in our hands.
Other improvements come in the form of a newly redesigned menu interface that offers a "quickscreen" for stress-free setting tweaks. We found the new interface to be much more intuitive and easy to navigate through then that found on previous models.

We were very pleased with the overall quality, feel and "grippy-ness" of the NX200.
What's the Same:
Like its predecessor, the NX200 will play nice with all i-function lenses. As would be expected, it still offers no viewfinder, optical or EV. Other things Samsung didn't mess with include the 614K 3" AMOLED, or the lack of a built-in flash (however the NX200 kit does include a hotshoe flash).
The NX200 will be available this September, bundled with a 18-55 i-Function kit lens and a hotshoe flash for $899.95.
New Lenses:
In addition to announcing the NX200, Samsung also announced the addition of 4 new lenses to be released within the next couple of months, three of which are very promising primes:
The first of the primes is a 16mm f/2.4 pancake lens (24mm equivalent on a 35mm camera) that will be available this September for $399.99. In addition, Samsung also announced a 60mm f/2.8 Macro ED OIS SSA prime and an 85mm f/1.4 ED SSA prime (90mm and 130mm equivalent on a 35mm camera, respectably). The 60mm will be available in September for $599, while you will have to wait until October to get your hands on the 85mm, which will retail for $999.
In the zoom department, Samsung announced a new 18-200 f/3.5-5.6 ED OIS tele (28-300 equivalent on a 35mm camera) that should be available immediately for $799. With the addition of these four lenses, Samsung now offers a total of 9 pieces glass for its NX line.