New Gear: The $2,900 Lensbaby Movie Maker's Kit Comes Packed In A Custom Pelican Case
Lensbaby's newest kit is their largest ever with 15 accessories and a custom storage kit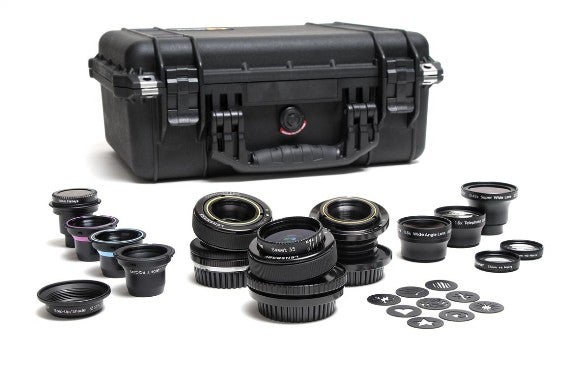 Pro photographers have been sneaking Lensbabies into their kits for a while now, especially since the introduction of the Composer Pro model. But now, they're taking a tighter aim at the cinema market. The Lensbaby Movie Maker's Kit has two lenses for use on PL mount cameras (Muse PL with Double Glass and Composer Pro PL with Sweet 35), as well as one Composer Pro for Canon mounts. There's more than just a trio of lenses in this huge kit, and it includes replaceable optics, new aperture disks, conversion kits and more, all packed into a custom cut Pelican case. There's a full rundown of what's inside after the jump:
Composer Pro with Double Glass Optic for Canon DLSRs
Composer Pro PL with Sweet 35 Optic
Muse PL with Single Glass Optic
2 Aperture Kits for use with Double Glass, Single Glass, and Plastic Optics
Fisheye Optic
Aperture Kit for Fisheye Optic
Soft Focus Optic
Aperture Kit for Soft Focus Optic
Plastic Optic
Pinhole/Zone Plate
0.42x Super Wide Conversion Lens
Wide Angle/Telephoto Kit
Macro Kit
Step-Up/Shade
Creative Aperture Kit 2
Quite a bit of gear tucked away in there, most of which are modular accessories for the three main lenses in the Movie Maker's Kit. All this hardware comes at a cost. It's not quite as dear as the $6,000 Carl Zeiss Prime Lens case, but the Lensbaby set will set you back some $2900 — hardly pocket change. But you can bet that none of your other glass will give you a look and feel like the Lensbaby will.