Delkin's Fat Gecko Quick Release Kit For Mounting Your Camera In Crazy Places
Delkin has just revealed a Quick Release Kit for their Fat Gecko line of camera mounts.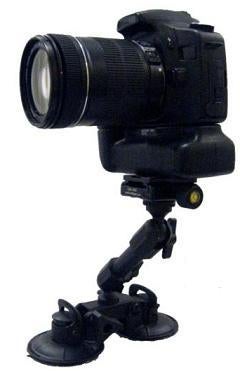 Delkin's Fat Gecko line of camera mounts allow you to mount your camera to just about any surface. Built on a line of suction cups, vise grips and bike mounts, they're designed for people who want their cameras to follow them through the craziest of adventures. The newest addition to the line is a Quick Release Kit, allowing you to easily swap your cameras in and out of the mounts or tripods.
The Quick Release Kit comes with a base plate and top plate for $39.99, and additional top plates are $19.99 a pop, and will fit any mount with a standard ¼-20 or 3/8-20 mounting head, Delkin or otherwise. That way you attach the base plate to your mount, the top plate to your camera (or more than one camera if you want) and are able to swap them out whenever you like.
The base plate has two liquid levels for accurate levelling, and flanged edges and a push-button key to prevent slipping. It's rated to hold up to 6.6 lbs of gear, suitable for all compacts and most SLRs.
The Quick Release Kit will be availabe from July 11th.