The Olloclip Gives Your iPhone Interchangeable Lenses
A Kickstarter program has pulled together all the funding it needs to add interchangeable lenses to the iPhone.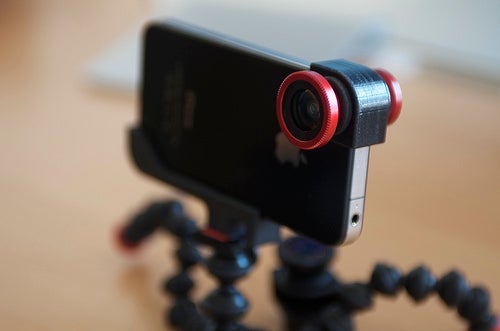 Kickstarter has quickly shot to fame as a place where people with good ideas can get the funding to make them happen — especially for gadget accessories. Two such people are Patrick O'Neill and Chong Pak who have come up with the
Olloclip, a small, double sided dongle which snaps over the built-in lens on your iPhone.
With a Kickstarter project, the pair set out to raise $15,000 to bring the estimated $60 lens into production, and now with three days left on the clock they've raised almost $60,000.
The olloclip itself is rather smart. There are three lenses built into one base. On one side you have a fisheye lens, and on the other is a wide-angle — and if you unscrew the top of the wide-angle, you can use it as a macro.
Now that the funding has been raised for this quick-change lens, the olloclip has gone into production. If you want to buy one when they hit shelves, you'll be down $60 for lenses. However, if you help fund them over Kickstarter in the last couple of days before the project closes, you should be able to grab one at a discounted price of $45 — unless you want the super fancy gold-colored Lens, laser engraved and serialized olloclip, which will cost you $250.
The first round of lenses are hoped to ship out this month.