Samsung Announces Mirrorless NX100
An innovative new lens system makes Samsung's new interchangeable lens compact a unique option.

We may earn revenue from the products available on this page and participate in affiliate programs. Learn more ›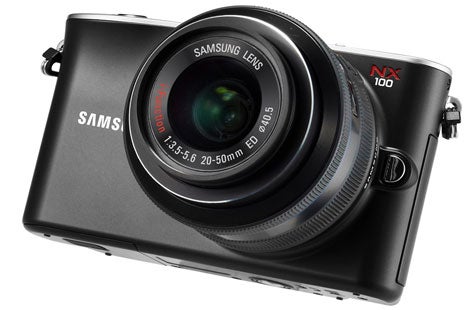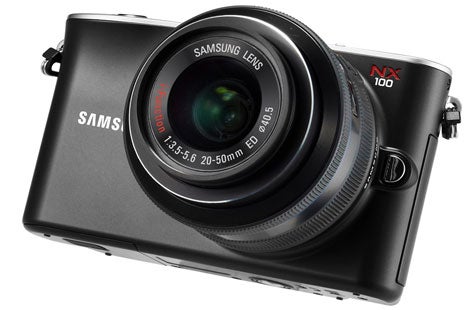 samsung nx100 main
We found a lot to like about Samsung's previous mirrorless camera, the NX10. But, now Samsung is taking things in a different direction, ditching the SLR form factor and introducing a true interchangeable lens compact in the NX100.
Like the NX10, the NX100 has an APS-C sensor (14.6-megapixels) and, predictably, the three-inch AMOLED display Samsung is so proud of. But, rather than looking like a DSLR, the press material claims the NX100 was "inspired by the simple shape of dew forming on leaves." While that may be a little abstract for us, we can say that the much more portable design is a welcome change.
The most interesting innovation, however, can't be found in the body, but rather in its lenses. The i-Function system allows for total exposure control using only the buttons and focus ring found on the lens itself. The idea is that shooters can continue to hold the camera in ready position while changing settings on the fly.
Each lens (the details of which are outlined later) is marked with an icon that suggests the shooting situation in which it will feel most at home. For instance, wide angle lenses are referred to as "landscape lenses." Put the camera in lens priority mode (that feels odd to type) and it will automatically switch to the shooting mode that matches the lens. While it probably won't get much use from experienced shooters, it should help take some of the mystery out of changing lenses for those who are just learning.
At launch, only a single lens 20-50mm zoom lens will be available — that lens priority mode won't be needed for a while — followed shortly by a 20mm pancake prime. In the first half of 2011, Samsung is planning to produce a 60mm macro and an 18-200 do-it-all zoom. And by the first stroke of 2012, they expect to add a 16mm, 85mm and a 16-80mm zoom to the mix.
If all of that glass isn't evidence enough that Samsung is confident in their new camera system, they're also releasing a full range of accessories, like an external flash that mounts to the hot shoe, an electronic viewfinder and a GPS attachment to enable GPS tagging of photos in real time.
Ultimately, it's nice to see a new camera with this much support behind it. Sure, it's not perfect, even on paper — 1080p video would've been nice (it maxes out at 720p) — but we're excited to see how it measures up to the other options currently out there. See the next page for some easy-to-digest specs.
NX100 Body
Sensor: 14.6 Megapixels APS-C CMOS sensor
Display: 3.0″ VGA AMOLED Display
ISO range: 100 – 3200, Extension settable : ISO 6400
Movie recording: 720P HD Movie Recording (H.264)
Storage type: SD, SDHC (Up to 32GB)
Battery life: Still : 420shot , 210min (CIPA Standard) Movie : 130min
Dimensions: 120.5 x 71 x 34.5mm (excluding the projection part)
Weight: 282 grams, or .62 pounds (body only)
20-50mm F/3.5-5.6 ED Standard Zoom Lens
35mm equivalent: 30.8-77mm
Elements and Groups: 9 elements in 8 groups (1 Aspherical lens, 1 Extra-low Dispersion lens)
Minimum focus distance: 0.28m
Dimensions: 64 x 39.8 mm
Weight: 119 grams
20mm F/2.8 Pancake Lens
35mm equivalent: 30.8mm
Elements and groups: 6 elements in 4 groups (1 Aspherical lens)
Minimum focus distance: 0.17m
Dimensions: 62.2 x 24.5mm
Weight: Approx. 89g
GPS10
Dimensions: 53 x 66 x 31.8mm
****Weight:**** Approx. 61.7g
Battery: 2 AAA batteries
Battery duration: Approx. 13 hours
Internal memory: 128MB
Electronic Viewfinder
Dimensions: 49.7 x 29.7 x 38.5mm
Weight: Approx. 23g
Resolution: QVGA (300×224), 201k
Magnification: Approx. 0.83x (APS-C, 50mm, -1m-1)
Coverage: Approx. 98%
Eye relief: 17mm
Flash (SEF15A)
Dimensions: 55 x 45.5 x 73.6mm
Weight: Approx. 80.4g
Guide Number: 15
Covered focal length: 18mm (APS-C) / 28mm (35mm)
Flash mode: A-TTL / Manual
Battery: 2 AAA battery : Alkaline, Ni-MH