Future Tech: A look at Next Gen Cameras
Edible cameras. Focus that changes after you shoot. What's really in store for photo technology?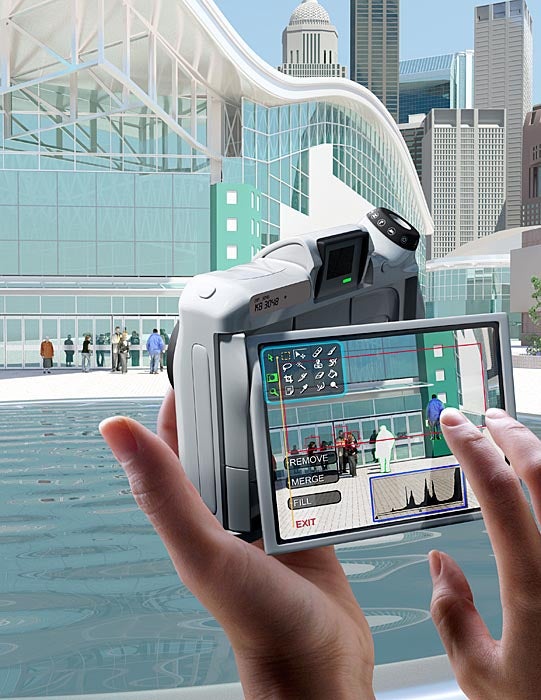 We may earn revenue from the products available on this page and participate in affiliate programs. Learn more ›
Cameras that let you adjust your focus or point of view after you take the shot. DSLRs with 6-inch, ultra-high-resolution touchscreen control monitors. Stereo lenses that fit on ILC cameras for 3D images. Will you be shooting photos with devices like these in the next couple of years?
To gauge how picture-taking may evolve, we spoke with about two dozen executives, product specialists, and researchers in the imaging technology arena, both in the U.S. and Japan.
Unsurprisingly, no one would divulge specific products or innovations that are in the pipeline. After all, it's a very competitive field and no company wanted to scoop its own impending announcement.
But our sources were eager to talk about the latest innovations in cameras, lenses, sensors, and imaging software—and about some longer-term developments. We also got the lowdown on some concepts that probably will never make it out of the pipe-dream stage.
And from current trends we can make some good bets about where this technology is headed:
**Miniaturization: **Tiny cameras will increasingly go places you never looked before. And toward the other end of the image-quality spectrum, interchangeable-lens compacts (ILCs) will continue to gain ground.
**Device Convergence: **We've already had 8MP camera phones, as well as DSLRs and ILCs that shoot high-definition video, for a few years. But here come affordable interchangeable-lens camcorder systems that use the same optics as their still-camera counterparts.
**3D: **A perennial fad, this gimmick is making a major comeback.
Incremental Improvements: Smaller things, such as sensor sensitivity, noise suppression, processing power, optical coatings and engineering, image stabilization, and battery life keep getting better. And those things will continue to add up.
What's holding back some of the more wild ideas? The realities of materials, manufacturing, and the market. After all, you might invent and create, say, a bag of tiny cameras that you can toss in the air like confetti for a cloud of pictures—but how many people would actually buy one?
Small Is Big
Olympus' EndoCapsule camera is so tiny you could swallow it whole. In fact, you're supposed to. Says John Knaur, senior digital products manager at Olympus, "As you swallow it, it takes pictures all the way through your gastrointestinal tract and relays that data to a sensor outside the body that the doctor can download to see what you look like on the inside—without running scopes through you."
This is a cool invention for gastroenterologists, but what does it mean to photographers? Just that our ability to get decent—though not necessarily print-worthy—pictures from a ridiculously tiny camera may be around the corner.
At least, that's the claim. And resolution is less important, since the images such micro-cameras capture are meant to be seen only on screens, not in print.
Take the Altera FPGA processing chips used by sensor makers AltaSens and Aptina, whose products are used in video security cameras. These increase the image's dynamic range by using tone-mapping on two simultaneous exposures. The result is HD video with better detail in both highlights and shadows.
"The AltaSens sensor can take two exposures in one frame time. Half the pixels are set for one exposure time while the other half are set for a different exposure time," says Altera senior strategic marketing manager Judd Heap. "The Aptina sensor is similar, except it captures video at 720p resolution instead of 1080p."
As the cost of such processors comes down, over the next few years they could begin to be used in consumer cameras.
At the same time, camera makers are banking on smaller ILCs that offer greater flexibility and performance than true compacts or electronic-viewfinder (EVF) superzooms without the bulk of DSLRs.
The Micro Four Thirds system from Olympus and Panasonic, along with APS-C-sensor ILCs from Samsung and Sony, are gaining in popularity, and chances are good that the other camera makers will enter this market before long.
Market analytics firm IDC forecasts that ILCs could reach 7% of cameras sold in 2013, up from 1% today, while DSLRs will drop to 6% from 8%. IDC analyst Chris Chute believes, though, that DSLRs will continue to dominate the high end of the camera market.
Sony recently announced a new kind of hybrid camera that seems to fall somewhere between an ILC and DSLR. It uses what Sony calls "Translucent Mirror Technology," a fixed mirror that reflects light to the AF sensor and transmits light through to the APS-C-sized CMOS image sensor, simultaneously.
Convergence, Finally?
Among the beneficiaries of miniaturization are the makers—and users—of camera phones. For instance, Sony Ericsson's latest smartphones emphasize their credentials as cameras. The Xperia X10 is an Android device with a 4-inch screen and 8.1MP camera that shoots stills and widescreen video. It has touch-focus and AF, flash and movie lights, macro mode, and a microSD card slot for up to 16GB of storage. The Satio boasts a 12.1MP camera with similar features, but it runs on the Symbian OS and has a front-facing camera for two-way video calls.
And last spring, Nokia exec Anssi Vanjoki created a stir by saying that "in the very near future" cellphone cameras would make DSLRs obsolete. That served as background for Nokia's launch of its 12MP camera phone, the N8, which has a Carl Zeiss lens, high-res 3.5-inch touchscreen, and shoots 720p HD video.
That's a lot of pixels to cram onto a tiny cellphone sensor, so you can expect noisy images. And that kind of tiny lens doesn't approach the edge-to-edge sharpness, distortion control, and speed of today's lenses for interchangeable-lens cameras, whether DSLRs or ILCs.
That's the front on which convergence has gotten truly interesting. Adding HD video shooting to DSLRs has enabled filmmakers to get a much higher level of image quality at a significantly lower cost than shooting with traditional motion-picture cameras. And it has allowed still photographers—notably photojournalists and event shooters—to move into video more easily.
What's next? Interchangeable lenses on consumer-level camcorders are coming very soon from Panasonic, Samsung, and Sony.
And at the World Expo 2010 in Shanghai this summer, Canon revealed a concept product, the Wonder Camera. It would capture extremely high–res video—every frame a usable photo. But it's more concept than product, and not a mere two or three years away.
Back to the Future
In the 1890s, stereoscopes were common in American homes, but their popularity declined rapidly after Kodak introduced the Brownie camera in 1900—possibly because people would rather look at their own two-dimensional images than someone else's stereoscopic ones. Since then, 3D, whether for movies or still images, has gone through numerous boom-and-bust cycles.
Now seems to augur another boom. Panasonic, Samsung, and Sony have all launched 3DTVs (and dedicated goggles). The Consumer Electronics Association expects unit sales to hit 2.1 million, or $2.7 billion in revenue in 2010 (they came on the market only last spring). In 2011, the CEA forecasts sales of 6 million units, for $7 billion.
Of course, those 3DTV makers also make cameras. To be more than a passing fad once again, 3D must become a popular format for consumer-created digital images.
Fujifilm actually got there a year ago with the FinePix Real 3D W1, which has dual lenses and dual sensors. Recently we got to check out the updated W3, which sports a 3.5- inch auto-stereoscopic 3D screen.
Sony recently started building what it calls Sweep 3D capability into single-lens, single-sensor compacts and offering it as a firmware update on its ILCs. Next up: DSLRs.
With Sweep 3D, you pan horizontally or vertically. "The camera can capture up to 100 shots and stitch them together into a single panorama in just a few seconds," says Mark Weir, Sony's digital imaging senior technology manager. To create 3D images, it takes right and left portions from each frame.
Panasonic is taking a different approach: By the end of 2010, it will offer a dual-lens optical system that puts the stereo lenses on a single Micro Four Thirds mount for use on its Lumix G series ILCs.
All of these cameras store their 3D images as MPO files (also called Multi-Picture Format), the industry standard—any compatible 3DTV can play them. Fuji also makes a desktop viewer that enables viewing the images from its camera without dedicated glasses.
Lenticular printing, which overlays the image with a plastic coating that lets you see the image in 3D without glasses, is now available online for about $10 a print from Start3d.com.
Incremental Gains
Recently, we've seen engineering advances in sensor design. For instance, OmniVision's backside-illuminated (BSI) sensor, which started appearing in many compacts last year, moves the support structure to the rear of the sensor for better low-light results. More powerful processing and software play a big role. You can see the effects in compacts, with their growing lists of catchy features from in-camera HDR to super-fast burst speeds at lower resolution. In DSLRs, witness faster full-res bursts (up to 85 JPEGs or 26 RAW at 10 frames per sec in the Canon EOS-1D Mark IV).
And some improvements happen through firmware upgrades, without your having to buy new gear. "It's not the computing power that makes the difference, but the algorithms used in imaging engines," says Kazuto Yamaki, Sigma's chief operating officer.
Ever more sophisticated image-editing capabilities will jump from computers into cameras. And physical features that began on compacts and even smartphones are migrating up to ILCs and DSLRs. Some changes are cosmetic— look at Pentax's colors for its very successful K-x—and some more functional, such as the touchscreen control on the Panasonic Lumix DMC-G2.
The possibilities are endless. How long will it be until cameras have screens that mimic the bright, extremely high-res, touchscreen Retinal display on the Apple iPad and iPhone 4? Until interchangeable lenses have as big a range as the 30X ultrazoom on Fuji's FinePix HS10? Until ILCs shoot low-light images that equal those of today's DSLRs? Maybe not long at all.