Which Plug-In Should I Buy?
Overcome the hazards of mixed lighting with software for perfect skin tones in any portrait.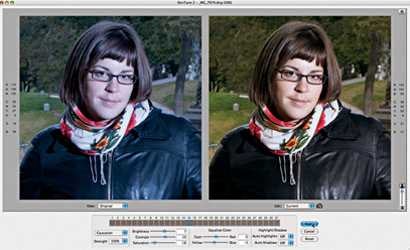 We may earn revenue from the products available on this page and participate in affiliate programs. Learn more ›
Q. I love to take portraits of my friends and family. But I often end up in mixed lighting that lead to skin tones that are messed up and hard to correct. Is there software that can make it easier?
A. When your image editor's gray dropper just won't cut it, you do have other options. If you use Adobe Photoshop Elements 4 or higher, you can use the Skin Tone enhancement to correct goofy color casts. Just open the tool and click on a patch of skin. Then use the sliders to adjust tan, blush, or ambient light.
But if you use Photoshop, shoot a lot of people pictures, and really want to get them right, onOne Software has a plug-in that just might change your life. PhotoTune 2.2 ($130, download, www.ononesoftware.com), was recently acquired and updated by onOne.
It comes with two color-correction modules: ColorTune and SkinTune. ColorTune helps you fix color and contrast by presenting you with two versions of your image and asking you to pick which you like better. SkinTune, however, will make repairing your portraits easier.
The tool evolved from two years of research done on skin tone by the original programmer. It turns out that all the skin colors in the world comprise less than 1 percent of available colors. That means that when you start out with a program that limits your ability to change skin just to those colors, you'll get good results a heck of a lot faster than with Photoshop's Curves tool.
Much like Elements' skin fixer, in PhotoTune you start by clicking on a patch of skin. There you can pick, as your starting point, African, Asian, Caucasian, Latin, or Middle Eastern — or you can just try them all. You'll get an automatic preview of the software's best guess. If you don't like it, you can make the color a little pinker or a little yellower. The rest of the colors in the image, by default, fall in line with the correction you've made to the skin.
OnOne's new version of PhotoTune now allows you to work with selected areas of your images and on 16-bit files, too. Best of all, you can give it a shot with the free downloadable demo version from the onOne website.