Which Digital Picture Frame Should I Buy?
Q: I want a digital frame to show off my photos. Can I get one that doesn't cost a lot...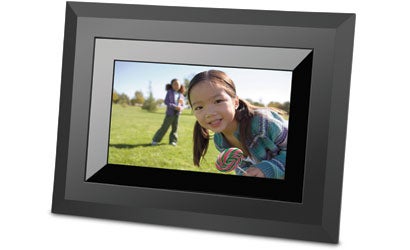 Q: I want a digital frame to show off my photos. Can I get one that doesn't cost a lot and works with the Wi-Fi network in my house?
A: Digital frames are hot, with dozens of models to choose from. Most have slide show modes, remote controls, video and audio, and multiple card readers — but there are some big differences in screen size, resolution, performance, and extra features. Most don't have Wi-Fi. And that can save you a few bucks.
For instance, Sunpak's new 8-inch frame ($124.95, street) has 640×480-pixel resolution and a 4:3 aspect ratio, which is perfect for compact digital camera owners (goodbye black bars on the sides of your photos). It has a lot of standard features, but Wi-Fi? Sorry, no.
For that, as well as a sharper 800×480-pixel screen, take a look at the Kodak EasyShare EX811 8-inch Digital Picture Frame ($165, street; other sizes are available). It packs a wallop for the price. Its 16:9 aspect ratio is a better match for DSLR owners.
You get a wide viewing angle, 128MB of internal memory, multicard reader, and USB connectivity. Although the remote is small enough to store in a slot in the back of the frame, unlike the remotes that come with some digital frames, this one has buttons for everything.
And yes, it has built-in speakers for watching high-definition movie clips or listening to MP3s. Its Wi-Fi function lets you quickly pull up images stored on your computer, or from Kodak's online EasyShare Gallery.
In addition to giving you the usual slide show timing and transitions, it lets you view thumbnail photos, as well as copy, delete, and print shots wirelessly to PictBridge-enabled printers.