Which Camera Should I Buy?
If you're looking for a pocket-size compact with optical image stabilization for low-light shooting, here's the one for you.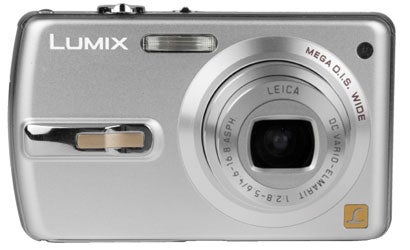 I'd love to get a good pocket camera with a big LCD and real image stabilization, since I like to shoot in low light without flash. What do you recommend?
Quite a few compacts have "real" — that is, optical — stabilization, which counteracts camera shake by moving lens elements or shifting the imaging chip. Canon, Nikon, Olympus, Pentax, Samsung, and Sony all make them. Optical stabilization allows steady shooting with superzoom cameras like the Sony Cyber-shot DSC-H5 (a 12X zoom) or Olympus SP-550 Ultrazoom (a humongous 18X zoom).
But since you want something to slip into a pocket, we suggest a model from Panasonic, a company that helped pioneer optical stabilization in small digital cameras. Its Mega Optical Image Stabilization (Mega O.I.S.) uses shifting lens elements and has proven very effective in a variety of cameras over the years.
The current 7.2MP Lumix DMC-FX50 ($330, street) packs a gorgeous 3-inch LCD into a camera body about the size of a deck of cards, with a flat-folding Leica DC Vario-Elmarit 3.6X f/2.8-5.6 zoom that covers our favorite focallength range for a compact, 28-102mm equivalent. For extreme low-light work, the High Sensitivity mode boosts the ISO to 3200 — while maintaining full resolution. Though this adds noise, it can allow steady shots by candlelight, particularly when used with Mega O.I.S.
You can use Mega O.I.S. for video capture, too — the FX50 does 640×480- pixel movies at 30 fps, up to your memory card's capacity. Want wide-screen? You can also take videos at 848×480, and higher-res stills, in 16:9 format.
Loads of scene-specific shooting modes (Baby, Fireworks, Food, Party, to name a few) round out the camera. We wish there were an optical viewfinder, but with that big LCD, there's no room. (panasonic.com)