Software Review: Corel Paint Shop Pro Photo X2
Corel's latest version is a powerful image editor for lighthearted photographers.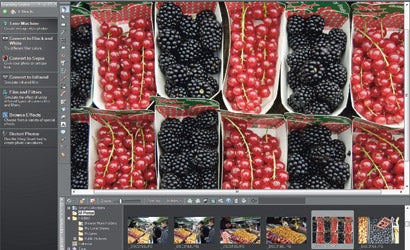 We may earn revenue from the products available on this page and participate in affiliate programs. Learn more ›
Hard as it may be to fathom in our Adobe-stocked world, there are other software companies with high-quality image-editors that could make any dedicated photographer productive and satisfied.
One such company is Corel, which, since its purchase of Jasc three years ago, has been steadily improving its photo editor, fixer, and organizer, Paint Shop Pro Photo, now in version X2 ($99 download, $59 upgrade).
As serious as the improvements you can make to your images with this program are, it doesn't take itself too seriously. There are more goofy tools in this version of Paint Shop Pro than in most editing programs I've seen. That makes it great software for people who really love to have fun and play with their photos.
You can simulate film types or preset looks (from "glamour" to "vibrant foliage"), go sepia or infrared, or even send your photo backwards on a timeline (via the "time machine" tool) to make it look like it's from another era altogether. Especially if you commonly use pictures as illustrations or components of a scrapbook collage, the flexibility and the fun of Paint Shop Pro will appeal.
A note to those with lots of monitor real estate: Be sure to use the tools at full screen — the before-and-after previews get much bigger than the tiny default window.
Paint Shop Pro has always included a decent photo organizer, but this version goes further with the efficient Express Lab. It lets you flip through your recently downloaded images; do quick modifications such as redeye fixes, cropping, and rotation; and adjust basic settings such as Brightness, Shadows, Highlights, and Saturation.
You can give your subjects a suntan, whiten their teeth, or try the Thinify tool to help them drop a few pounds. (This does a pretty good job of quickly fixing subjects unfairly made chubby by wide-angle distortion, too.) Also included: a super-intuitive dropper that removes color cast when you click on a tone that should be black, white, or gray.
For newbies overwhelmed by the large feature set, the (removable) Learning Center palette that hangs out on the left part of the screen comes in handy. Spend half an hour trying its suggestions and you will be well on your way to understanding the logic of the program on the whole. Once you get really good, take advantage of Paint Shop Pro's extensibility and use it with any plug-in that's also available for Adobe Photoshop.
The software has sophisticated tools such as Curves and Layers for serious editing and retouching. It even contains a version of a High Dynamic Range tool, though it doesn't output to 32-bit.
What might be problematic for some is this program's RAW support: While it opens most file types, and while you can definitely get better fixes than you can with a JPEG, there is no true RAW converter. The best you can do is use the Smart Fix sliders as soon as you open the file.
That said, Paint Shop Pro X2 is an excellent upgrade to a program that will please the photographer who'd rather spend time having fun with photos than doing a lot of technical heavy lifting.