Pentax K2000: First Look
It's sweet, hot and comes with a flash.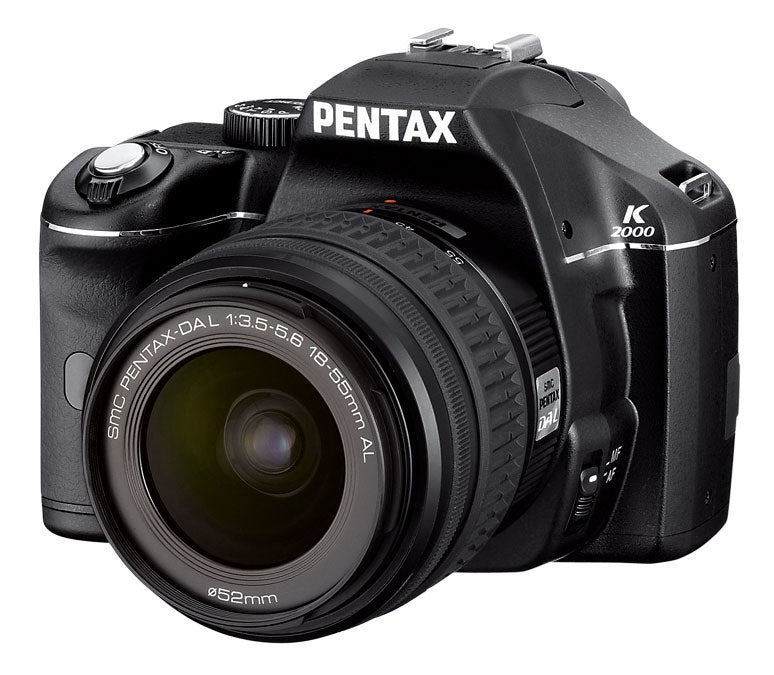 We may earn revenue from the products available on this page and participate in affiliate programs. Learn more ›
Looking for a great kit to get you started with DSLRs? Pentax's latest, the K2000, will ship with a 18-55mm f/3.5-5.6 (27-78mm equivalent) kit lens and a hot-shoe flash, all for $700 (estimated street). And from its features, it could turn out to be a top choice of budding photographers, just as the Pentax K1000 was back in film days.
The K2000's 10.2MP CCD sensor offers enough resolution to allow for decentsized prints, even after cropping. Its pixel count is in line with the competition, such as the Canon EOS Rebel XS, Nikon D60, Olympus E-420, and Sony Alpha 200. The K2000's ISO range of 100-3200 offers 1 stop more than Pentax's K200D ($600, body only; $635 with the same kit lens). And while the 2.7-inch 230,000-dot LCD isn't extravagant, it's big enough to check your framing and change settings.
Pentax increased the burst speed to 3.5 frames per second for up to 4 JPEG or RAW shots, up from the K200D's 2.8 fps. It includes the same Lo burst mode, which chugs along at 1.1 fps but allows unlimited JPEG capture up to the capacity of your SD or SDHC memory card. RAW capture stays capped at 4 frames.
What else has the K2000 inherited? The eye-level pentamirror with 96 percent coverage and 0.85X magnification, plus the same 16-segment metering system, including multisegment, centerweighted, and spotmetering options.
Flash X-Sync speed remains at 1/180 second, though the built-in flash steps down a bit in power: The K2000's has a guide number of 36 (meaning that it reaches a little past 10 feet at ISO 100 with an f/3.5 lens wide open), while the K200D has a GN of 43, good for 12+ feet with the same lens.
This shouldn't be much of a problem though, since Pentax includes its compact AF200FG (GN 66) hot-shoe flash in the the K2000 kit. It covers the field of view of a 28mm (equivalent) lens and has a built-in flip-down diffuser to spread that coverage to 24mm. It neither swivels nor tilts for bounce, however, and it's an inch shorter than Pentax's next-larger flash, the AF360FGZ.
You won't find live-view shooting, but the entry-level field is still split on this feature. The Nikon D60 and Sony A200 also lack live view, while the Canon Rebel XS and Olympus E-420 have it.
Image stabilization? It's in here, making the K2000 the only entry-level DSLR beside the Sony A200 (and the K200D) to have it built into the body. (To be fair, both the Canon and Nikon include kit lenses with image stabilization.) Olympus makes you step up to the E-520 for this.
For budget-minded shooters, in-body IS tends to make more sense, since it works with any lens. With a Pentax, you can use a K-mount lens that predates autofocus and handhold at slower shutter speeds.
One place the K2000 steps back from the K200D: the number of AF points. While the K200D has an 11-point AF system, the new camera has just 5. That's middle-of-the-pack of entry-level DSLRs: Sony's A200 has 9, Canon's Rebel XS has 7, while the Nikon D60 and Olympus E- 420 both sport 3-point AF systems.
Overall, the K2000 stacks up strongly against its competitors. We find the menubased control system more intuitive than some others — just one of the details that makes Pentax a favorite among savvy photographers who watch what they spend. The K2000 should help Pentax hold onto its stellar reputation.