Nikon D40 Shipping in December
The D50's replacement loses weight, trims price down to measly $600 street with kit lens.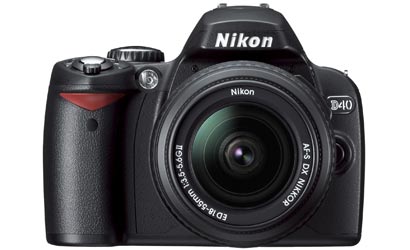 After rampant rumor-mongering, leaked specs showing up on random sites, and photo forum banter, we can finally tell you about the just-announced Nikon D40, a slim, 6.1-megapixel bargain at $600 street with Nikon's 18-55mm f/3/5-5.6II AF-S Zoom Nikkor DX lens.
Available in the U.S. in December 2006, the D40 loses the top LCD of the D50, but gains an extra half-inch in the LCD, at 2.5 inches diagonally. Other upgrades include improved viewfinder magnification (.80x up from .76x), metering, processor speed, burst rate, noise suppression, in-camera editing, and in-camera user help-this last one very useful for the DLSR newbie.
The D40 gets almost all the in-camera image quality controls of its big brother, the D80 (except for black-and-white filter effects): D-lighting for toning down scene contrast, color filter effects, red-eye removal, and color balancing with the help of color histograms.
There are only three AF points, down from the D50's five, but Nikon claims that these three are faster and more accurate, which if true, is a case where less truly is more.
Other key features and upgrades include:
– Maximum burst at 2.5 frames per sec is a huge 100 full-resolution, highest-quality JPEGs.
– The D40 can capture at up to ISO 3200, with noise suppression improvements.
– The 420-pixel 3D Color Matrix metering of the D50 is maintained, but with improved recognition of the sizes, shapes, and position of objects in the frame.
– A smaller Li-ion battery reduces weight and size, but ups the CIPA life to 470 from the D50's 400 (50% flash use for CIPA numbers)
– The D40 is compatible with all existing Nikon iTTL strobes, including the just-announced Nikon Speedlight SB400 AF ($129 street), which has a bounce head, but keeps a cheap price by skipping wireless capability.
We like what we're seeing in this entry-level DSLR race. Camera companies are continually improving performance, image quality, and ease of use for the budget-minded and beginner segment, rather than just blindly piling on the megapixels at the cost of overall user experience.
One major negative point to note is that autofocus won't work unless the lens is a relatively new, digital-only AF-S or ED-IF series. These both differ from older Nikkors because they have the AF motor built in to the lens body. (For more on the D40's lens compatibility issues, see our update.)