NEWS FLASH:Digital EOS Rebel
Canon unveils *DIGITAL EOS REBEL,* first DSLR under $1,000,lens included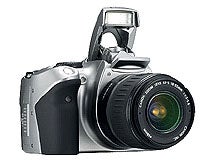 August 20, New York:
Several months ago on popphoto.com, we polled our readers to find out how much they'd be willing to spend on a digital SLR. Well over 50 percent chose under $1,000. They just got their wish.
Canon has introduced the EOS Rebel, a 6.3 megapixel, 20-ounce digital SLR that will ship with a new 18-55mm f/3.5-5.6 lens for a street price under $1,000. The camera is also available without the lens, for approx. $900. The lens mount and baseplate are metal instead of plastic, which adds a few ounces but also is expected to improve lens performance.
Popular Photography and Imaging will test this camera in the near future, and will report the results in an upcoming issue.
The following is the text of Canon's press release announcing the EOS Digital Rebel.
"Canon is about to turn the world of Digital SLR's upside down. In fact, upside down, rightside up or from any angle at all, it's clear that the new, high-resolution 6.3 megapixel EOS Rebel Digital SLR will continue the Rebel tradition as the most popular SLR camera line, when it arrives in stores in mid-September.
"That's right: the Canon EOS Rebel has gone digital… And it's gone and done it for a sub-$1,000 selling price (and that includes the new Canon exclusively designed EF-S 18-55mm f/3.5 – 5.6 zoom lens)!
"Sleek and stylish – with a high-grade titanium gray metallic finish – the Digital Rebel affordably contains many of Canon's formidable features, including the large 6.3 megapixel CMOS imaging sensor. The undeniable answer to photo enthusiasts and every day users who have been patiently waiting for an affordable digital SLR, the Digital Rebel puts the power and flexibility of a single lens reflex camera into a compact, lightweight, high performance, high resolution package. The Digital Rebel is also compatible with the full line of more than 50 Canon EF lenses and literally hundreds of Canon EOS accessories."