Kid Tested, Mother Approved
We outfitted kids ranging in age from three to five with the new Fisher-Price Kid-Tough Digital Camera to see just how tough these starter cams really are.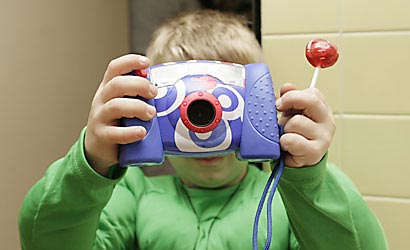 We may earn revenue from the products available on this page and participate in affiliate programs. Learn more ›
At the PopPhoto lab, we normally run new digital cameras through a series of tests to determine image quality, color accuracy, resolution, and lens performance. But there are exceptions.
We can tell just by "eyeballing" that the new Fisher-Price Kid-Tough Digital Camera (street: $70.00) would not score very highly with our stringent testing procedures. But does it matter if the resolution is low, the fixed focus lens shows some distortion, and the color accuracy feels a bit off? In this case, we don't think so.
The real test of a toy, even a high-tech photography toy, is the hands-on, real world experiences of the age-specific demographic.
In other words, what do kids think of it? And is it really "Kid-Tough?" Will they get bored with it in just a few hours? Did FisherPrice build a winner with the Kid-Tough Camera?
What's Hot: Camera is built tough, and kid-friendly Pink for girls, blue for boys! Long life with 4 AA batteries Super-easy to use and understand What's Not: At $70 retail, is a bit steep in price Small internal memory only holds 50 pictures (add SD cards for additional storage-544 on a 64MB card!) Bundled Software is Windows-only. (Mac users can download photos via supplied connector cable and use iPhoto for viewing.)
For this camera test, we outfitted our guest testers, ranging in age from three to five years old, blue and pink Kid-Tough cameras and gave them the title of "official Junior PopPhoto.com testers" for a week.
Instead of Color accuracy (not very accurate, by the way) and resolution (640×480 pixels, fyi), we wanted to find out: would the cameras survive a week of real-world play? Did the children get bored? Is it fun? Is it easy enough even for the younger testers, at the low end of the "3 and up" suggested age range?
We're happy to report that the cameras both survived the week intact, and both are still capable of firing away snapshot after snapshot. And yes, the boys do admit to dropping it a couple of times.
Five-year-old C.J. took right to the camera and began to compose his shots through the two-eye binocular style viewfinder — waiting for just the right moment, directing his younger brothers to pose with stuffed animals, and took to being a photographer like a seasoned pro. C.J. also quickly learned by himself how to review the images and even how to delete the photos he didn't like. He'd then reshoot the scene until it was just right.
Valerie, the boys' mother, reports that her younger boys also took to the camera immediately, but it took 4-year-old Julius a little longer to figure out how to wait for and snap "the decisive moment." Three-year-old Mason, meanwhile, showed a youthful "shoot from the hip" style with little regard to framing or composition, opting instead for the immediacy of the moment over any framing or compositing conventions. In all seriousness though, the boys' mother feels that three years is an ambitious claim for the age suggestions. Four and five years seem the optimal age for boys.
Three- and four-year-old sisters Beatrix and Daphne "really liked it" and said it was "really really fun!" That their model was pink only added to their enjoyment, according to their dad, Eddie.
As we've said, this camera has very low resolution and image quality according to PopPhoto.com's strict standards, but really, the kids didn't seem to mind. Opened up on a computer monitor, the photos measure 8.9 by 6.6 inches at 72dpi, and can be printed straight from the camera onto plain computer paper. The ones we tested look OK — not truly photorealistic, but good enough to hang proudly on Grandma's refrigerator.
We upsampled an image to 4×6 inches at 360dpi for printing on premium glossy photo paper using a pro-level 7-color printer. Those results weren't perfect, but looked surprisingly good, all things considered. You won't mistake the prints for one taken with a professional-grade DSLR or even a 4-megapixel point and shoot, but they looked good enough for show and tell.
If our guest testers are any indication, FisherPrice has a real winner with this camera. The chance for children to act like their folks with their own camera will make many children happy. And for parents, having the chance to see the world through a child's eye, even in low-resolution snapshots, is simply magical.
Tech Specs:
Picture Resolution: 640 x 480
Internal Memory: 8MB SDRam
Removable Media Type: MMC/SD card
Lens: 4.8mm, f/2.6 (per provided specs, EXIF data states f/2.8)
Focus range: 4″-∞
ISO: 60
LCD: 1.3″ color LCD
Connectivity: USB 1.1 or higher
Battery type: 4 AA plus 1 CR-2032 (cannot be removed by child)
Flash Range: 4″-7.5″
Dimensions: 5.5″ x 3.0″ x 3.875″
Weight: Approximately 12.5 ounces with batteries and SD card
In the Box:
KidTough Digital Camera with attached strap, 1 CR-2032 battery, Digital Software, USB cable.