Holiday Gifts for the Sports Photographer
Sports shooter Wilson Tsoi recommends the best photo gear to capture those game-breaking shots.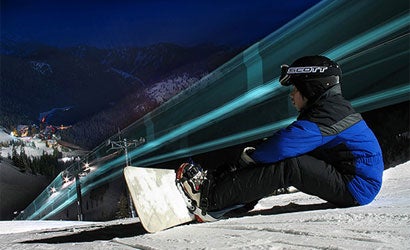 When Wilson Tsoi's kids got old enough to start playing soccer and baseball, he found himself watching a lot of games, and started bringing his camera along. "I got more and more involved with it," he says, "to the point where somebody from a local college saw some of my work and contacted me to shoot for them." These days, Tsoi photographs athletes of many types and ages, both amateurs and pros. He enjoys the challenge of capturing the expressive moments that fly by in a game. And, he notes, when he's photographing a sports event, "I've got the best seat in the house." Tsoi shoots sports with Nikon D2X and D200 digital SLRs. To photograph football, soccer, and baseball games, where players are often far away, Tsoi uses Nikon's AF-S Nikkor 300mm f/2.8D ED-IF II, AF Zoom-Nikkor 80-200mm f/2.8D ED, and AF-S Zoom-NIKKOR 28-70mm f/2.8D IF-ED lenses.
These telephoto optics give him the ability to get close-up shots of the players, and their constant f/2.8 apertures allow him to use the shallow depth of field that makes his subjects stand out from whatever commotion might be taking place in the background. For closer-range sports such as basketball and volleyball, he also uses a Sigma 30mm f/1.4 EX DC HSM AF and a Nikon AF Nikkor 85mm f/1.4D IF. On occasions when he might get in the game himself (check out the snowboarding photograph in his slideshow for an example) and needs a compact option, he carries a Canon Powershot A620. Although that camera has been discontinued, the more recent A650 IS is very similar and offers the manual controls and flip-out LCD that give Tsoi the flexibility he needs for both composing and exposing his images.
Click on the cameras and lenses for more information about them from Popular Photography. To see more of Wilson Tsoi's images, click on the photo at right or check out his online portfolio.
Here are some of the other items Tsoi takes to sports events:
Expodisc
Tsoi brings this white-balance tool along when he shoots sports, especially if he's going to a gym, where the light source can be unpredictable. Gyms often have mixed illumination sources and use unusual light types such as sodium lights. "Previously I used a simple white card, but the Expodisc is a lot more convenient, and in my opinion a lot more accurate," Tsoi says. To set a custom white balance with the device, you just put it on the front of your lens, like a filter, and follow your camera's process for setting custom white balance. You can also use it to take a reference shot for adjusting white balance later when you're processing your RAW images. You can read Pop Photo's review of the Expodisc here.
Priced between about $90 and $125, depending on size.
www.expodisc.com
StormJacket Camera Cover
In addition to bringing along a parka for himself to outdoor sports events, Tsoi carries a lightweight nylon StormJacket cover that fits over his SLR body and lens to protect them from rain, snow, and whatever else might be flying through the air when he's shooting sports. StormJacket's waterproof nylon covers come in black, red, and yellow; take up almost no room in a camera bag; and are relatively inexpensive. Tsoi uses the small and medium sizes; make sure you get the right size for the camera body and lens the cover will be protecting.
$36, $38, and $40 for small, medium, and large sizes.
stormjacket.com
Op/Tech ProLoop Strap
Carrying camera gear around can be a sport in itself. Tsoi uses neoprene Op/Tech ProLoop straps on his SLRs because they're comfortable and designed not to slip when hung over the shoulder. Tsoi also put a neoprene Op/Tech Camstrap QD wrist strap on his A620 after his previous compact camera took a plunge during a waterside shoot. It can be tightened around the wrist and attaches to the camera with a quick-release lock. All Op/Tech straps come in a variety of colors.
About $20, or $9 for a wrist strap.
optechusa.com
Lensmate Adapter
This adapter fits around the lens on Tsoi's compact camera so that he can attach a lens converter. Lensmate sells adapters for numerous compact camera models. The adapters are made of aluminum and finished to match the camera body.
Starts at about $22.
www.lensmateonline.com
Raynox DCR-6600 Pro Wide Angle Converter
Tsoi uses this .66x wide-angle adapter on his compact camera to get a view similar to that of a 26-27mm lens on a 35mm camera. Raynox also makes telephoto, fisheye, and closeup converters that can be attached to numerous compact cameras with an adapter.
About $140
www.raynox.co.jp
Pedco Ultrapod II
Tsoi carries this little tripod when he's shooting with his A620 compact camera. It lets him stabilize the camera in just about any situation, is very quick to use, and can hold the camera very close to the ground for low-angle shots. Its diminutive size makes it easy to bring along on a ski slope or in any other situation in which he might alternate between participating in a sport and photographing it.
About $20
www.pedcopods.com
Read on to find out what Tsoi would like to add to his kit for sports photography.