Holiday Gifts for the Landscape and Travel Photographer
Seattle-based photographer Anne Archambault recommends the best gear for the adventurous shooter.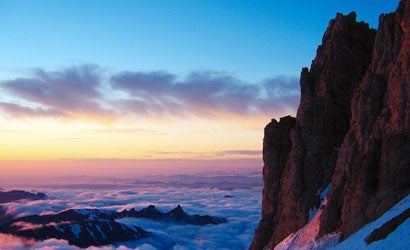 Anne Archambault's photography reveals a strong compositional sensibility that makes her a natural landscape photographer. "I'm drawn by patterns and textures and colors coming together, by unusual or paradoxical juxtapositions," she says. Living in Seattle gives her an opportunity to make weekend excursions into the natural world of the Pacific Northwest, and she also likes to take longer trips to more far-flung destinations.
On her photographic expeditions, Archambault uses a Canon Digital EOS 5D as her main camera and a Canon Digital EOS Rebel XT (350D) as a backup body. She likes the wide-angle capability that the 5D's full-frame sensor gives her for capturing expansive vistas, and the lens she has used most on recent shoots is her wide-angle zoom, a Canon EF 16-35mm f/2.8 L USM. She also likes to be prepared for any situation, and sometimes finds the compositional elements that interest her in the details of a scene. To capture them, she uses Canon's EF 24-70mm L f/2.8 USM and EF 70-200 mm f/4 IS USM lenses. For travel and outdoor photography, she prefers the 70-200mm f/4 to Canon's f/2.8 lens with the same focal length, because it's smaller and easier to carry, and, she notes, some would argue it's sharper.
Click on the cameras and lenses for more information about them from Popular Photography. To see more of Anne Archambault's images, click the photo at right or visit her website.
Here are some of the other items Archambault takes along for landscape and travel photography:
Canon Extender EF 1.4x II
To increase the flexibility of her lenses without adding too much bulk or weight to her backpack, Archambault carries this extender. She uses it with her 70-200mm lens when she wants to get in close to the details in a scene or capture a subject that's off in the distance. The 1.4x extension gives her the view of a 98-280mm optic. Extenders are available for every major digital SLR brand, so check with the manufacturer of your gift recipient's camera to find one that's compatible if it's not a Canon.
About $280
www.usa.canon.com
Gitzo GT1540 Mountaineer Tripod
"The key criterion for me is quick use," Archambault says about her tripod of choice. "It's very well designed." She finds its carbon-fiber twist-lock legs fast and easy to set up and adjust, and likes its combination of light weight and stability. Weighing just 2.5 pounds, it folds down to 21 inches and can be extended to a 54-inch height (or higher with the center column raised), and it uses Gitzo's G-lock technology to increase the rigidity of the legs.
About $550
www.gitzo.com
Kirk BH-3 Panning Ballhead with Quick Release Platform
Archambault likes this ball head because while it's slightly smaller and lighter than Kirk's popular BH-1, it still supports her camera and any of her lenses without drifting. "If you're bracketing your exposures for HDR or some other reason, you really don't want anything to move at all," she points out, also noting that the head doesn't risk causing damage to her equipment by slipping when she's making adjustments with a heavy lens mounted. She also likes the smooth operation of the knobs for making fine and large adjustments, and notes that the rotation base is helpful when shooting a series of images to create a panorama.
$255
www.kirkphoto.com
Acratech Double Axis Spirit Level
This little device slides into the hotshoe of a camera to show you if it's level. "It's surprising how often you're not when it seems you are," says Archambault. This simple but useful gadget helps her align shots with the horizon in them and get the composition that she wants just right.
About $25
acratech.net
MicroStar/Cleanstar Micro-Fiber 18% Gray Cleaning Cloth
When you're carrying your gear on your back, it's handy to have items that serve more than one purpose. This cleaning cloth is about 8×8 inches and the color of an 18% gray card, which means that you can use it for setting a custom white balance or even to help meter your exposure. Archambault usually just uses it to clean off her gear, but finds that it comes in handy as a white balance tool when people are in her shots and she wants to get the skin tones right.
About $6
www.wiko.com/microstar.html
Garmin eTrex Vista Cx
This is another device that serves two purposes for Archambault. It helps her find obscure locations where she wants to shoot, and it also saves a GPX track so that she can geocode her images — encode them with the location where they were shot, that is — when she gets home. (She uses Breeze Systems' $29.95 Downloader Pro 2.0 software to geocode her images before processing them in Adobe Photoshop Lightroom.) Archambault described one of her adventures in the Bisti Badlands, where there were no trails to lead her to the location that she had GPS coordinates for: "I couldn't have found this particular location before sunrise without scouting it first the day before. My GPS allowed me to efficiently find my destination in complete darkness. As you can imagine, the backlight came in quite handy!" This model has a color LCD and includes a barometric altimeter, an electronic compass, and a 64MB microSD card for storing detailed maps and recorded location data.
About $240
www.garmin.com
Read on to find out what Archambault would like to add to her kit for travel and landscape photography.
We asked Anne Archambault what she would like to add to her gear for landscape and travel photography. Here's what's on her wish list:
Canon Rebel XT Infrared Conversion
Landscape photographers have captured beautiful and sometimes eerie images with infrared film, but shooting with a digital camera often eliminates that possibility because the sensor is covered by a filter that blocks light in the infrared part of the spectrum. Archambault would like to have the Rebel XT she has been using as a backup body modified for infrared capture. LDP (a.k.a. maxmax) is a company that does infrared camera conversions on cameras that are sent in by customers, and also sells new cameras that have been modified for infrared capture.
About $950 for a new Canon Rebel XT converted for infrared capture; inquire about modification prices.
www.maxmax.com
Singh-Ray Galen Rowell Graduated Filter
This color-neutral filter is dark on top and light on the bottom, allowing the photographer to get a good exposure of a landscape with a bright sky. "I often have high-contrast situations that are impossible to expose," says Archambault. "Being able to enhance the sky is very handy." The Singh-Ray graduated filter is available with different levels of contrast between top and bottom, and with hard and soft transitions between the two areas. To use this type of filter, you'll also need to pick up a Cokin P filter holder, which mounts on the lens.
From $99 to $225, depending on contrast level.
www.singh-ray.com
Cokin P filter holder about $15
www.cokin.fr
Kirk L-Bracket
This lightweight aluminum bracket sits between the camera and a tripod head, and allows the camera to be quickly turned 90 degrees when you're alternating between photographing landscapes and people. As Archambault explains, "If there is one drawback to using a ball head, it's that if you want to shoot portraits, you have to flip the ball head completely on its side. It's less stable and more awkward to move. By having the L-bracket, you make it really easy to switch between landscape and portrait — and safer and more stable." Kirk L-brackets are compatible only with arca-style quick-release platforms, so make sure that the tripod head it will be used with has one before making a purchase. Kirk designs its L-brackets to work with specific camera models.
From about $80 to $180, depending on the camera model it's designed for.
www.kirkphoto.com
Canon TC80N3 Timer Remote Control
If you were wondering how Archambault captured the image of star trails that's in her slideshow, here is part of the answer. She borrowed a TC80N3 from a friend in order to set up the timelapse series that she combined to create the image. In fact, that photo was made by merging 340 separate 8-second exposures. The TC80N3 attaches to compatible Canon digital SLRs with a 2.6-foot cord, and includes a self-timer, an interval timer, and a long-exposure timer "It's also just a great cable release," says Archambault. "I use mirror lockup with it and it's perfect."
About $130
http://www.usa.canon.com/
Epson P-5000
Like most photographers, Archambault admits that she's "really paranoid about my data." She takes a laptop on trips to download her shots at the end of the day, but can't carry it with her when she's hiking with a backpack. "I occasionally go on multi-day treks," she says, "where carrying a laptop is out of the question." This portable storage device, on the other hand, would be a reasonable addition to her pack and would hold up to 80GB of image files. It also has a sharp 4-inch LCD for reviewing images. If you're buying a gift for a serious hiker, consider wrapping up a P-5000 with a solar charger (see John Hyde's wish list for a suggestion on that).
About $600
www.epson.com
ThinkTank Photo Rotation 360
Archambault told us that she's on a quest to find the perfect camera backpack. She hasn't discovered it yet, but she thinks this one might be a good candidate. Her criteria: the bag has to be comfortable to carry all day when loaded with gear, and it should provide a quick and efficient way to get things out. The Rotation 360 may be unique in its ability to meet the latter criterion: It has a bottom section that can pull out and rotate around the waist while a person is wearing it, offering quick access to the camera inside, even in places where taking the backpack off isn't an option. The bottom section can also be used separately as a belt pack.
$280
Read our Field Test of the Think Tank Rotation 360.
http://www.thinktankphoto.com/