High 5: Digicam Tricks
Five little cameras with hugely cool features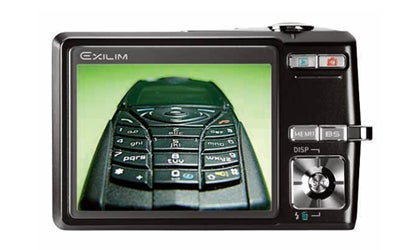 1. Casio Exilim EX-S600
Selling stuff online? Then it had better look good. With eBay mode, this new 6MP digicam shifts automatically between macro and normal focus for items small and large. And it optimizes your file size for display on the web, helping to streamline your eBay selling experience. Street price: $325. For info: www.casio.com; 800-706-2534.
2. Fujifilm Finepix V10
For those rare times when you're stuck with nothing to shoot, this 5MP camera comes loaded with four video games: Number Puzzle, Maze, Shooting Game, and Block Buster. With a 3-inch LCD and Fujifilm Real Photo technology for crisper images at up to ISO 1600, it's good for taking and looking at photos, too. Street price: $350. For info: www.fujifilm.com; 800-800-3854.
3. Pentax Optio W10
This 6MP digicam can swim! Depth-rated to five feet, it goes places other cameras in its class cannot: in the surf, in the swimming pool, snorkeling, through the sprinkler, and so on. It's equally at home on terra firma. Street price: $300. For info: www.h2ocamera.com; 800-877-0155.
4. Samsung Digimax i6
Traveling light this summer? No need to pack your iPod. Doubling as a personal multimedia player, this 6MP ultraslim lets you bring along your music, movies, music videos, and webcasts to keep yourself entertained between shoots. Estimated price: $299. For info: www.samsung.com; 800-726-7864.
5. Sony Cybershot DSC-N1
The 3-inch screen takes up almost the whole back of this 8.0MP camera, and it puts menu options at your fingertips-literally. Touch the screen to control your camera settings or to play a slide show of up to 500 images, with music and transition effects. Street price: $440. For info: www.sonystyle.com; 877-865-7669.