High 5: 10MP Compacts
Five compact cameras that pack at least 10 megapixels and a host of special features.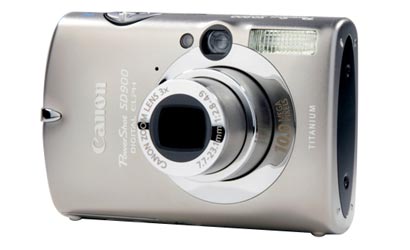 1. Canon PowerShot SD900 Digital ELPH
This titanium-skinned toughie ($500, street) has the 10MP CCD sensor from big brother PowerShot G7, as well as Face Detection, which figures out where the people are and focuses accordingly. An unusual feature, High-resolution Movie mode, captures video at 1024×768 pixels, albeit at 15 frames per second. (You can do 30 fps at 640×480 resolution.) The My Colors menu provides neat effects like skin tone adjustments and selective saturation of single colors. Lens is a 37-111mm equivalent f/2.8-4.9 3X. (www.usa.canon.com)
2. Casio Exilim EX-Z1000
The award for the slimmest 10.1MP goes to Casio's 22mm-thick EX-Z1000 ($320, street) — although the Olympus and Pentax are within a millimeter. It has a huge 2.8-inch LCD in a widescreen 14:9 aspect ratio, and more modes than you can think of, including eBay mode for web shots of swag for sale. For frantic party shooters, Rapid Flash lets you fire three flash shots with no pause. The lens: a 38-114mm equivalent f/2.8-5.4 3X. (www.casio.com)
3. Olympus Stylus 1000
Are you going to get the camera wet? We thought so. Then consider the weatherproof Stylus 1000 ($350, street), which stands up to rain, snow, and spray. You can also set ISO up to 3200 at full res. There are lots of fixes for boo-boos, including sharpening of shaky shots (a gyro-sensor records which way the camera moved), shadow brightening, and color adjustments. The lens is a 35-105mm equivalent f/2.8-4.7 3X. (www.olympusamerica.com)
4. Pentax Optio A20
Shaky types, check out the A20 ($310, street), which takes the belt-and-suspenders approach to image stabilization: optical and digital. Optical employs a shifting CCD; digital uses Blur Reduction mode to bump the ISO up to 1600 for stills and, in video mode, uses multisampling to sharpen edges. Set the camera to Portrait or Kids mode, and the autofocusing goes to face priority. Lens is a 37.5-112.5mm f/2.8-5.4 3X. (www.pentaximaging.com)
5. Samsung NV10
The $350 (street) NV10's sleek and stealthy, satin-black aluminum casing is enhanced by a minimum of control markings — so how are you supposed to know what the many "Smart Touch" buttons set? Easy: The control choices appear clearly superimposed on the 2.5-inch LCD. Redeye is suppressed by a pop-up flash located farther from the lens than usual, and, if you still get redeye, software can remove in on the fly or after the shot. Lens is a 35-105mm equivalent f/2.8-5.1 3X. (www.samsungcamerausa.com)
For full tests of these five cameras, click on camera name or start here.