Hands On: Mamiya ZD
Medium format strikes back with major megapixels.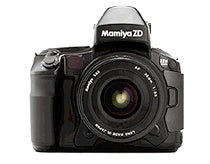 We may earn revenue from the products available on this page and participate in affiliate programs. Learn more ›
Not long ago, most serious photographers dreamed of joining the elite club of pros who shot with 6×4.5cm or 21¼4-inch medium-format cameras. Why? Nearly all top wedding, portrait, and nature shooters favored medium format for its ability to produce higher-quality photos than the lightweight 35mm SLRs carried by photojournalists. But the image quality gap narrowed in the '90s as 35mm slide and print films improved dramatically, showing clearly that good 35mm lenses surpassed most medium-format glass in sharpness. The digital SLR onslaught has further eroded the mystique of medium format, as most DSLRs to date have been designed to
accept 35mm lenses. In this digital world, can medium-format systems survive?
Mamiya says "Yes!" and plans to steal back the hearts of pros with its new ZD digital SLR. (While no retail price had been set by press time, we estimate $12,500 street, body only.) The ZD is the first SLR that has an integrated, large-scale CCD sensor with 21.5MP effective resolution, and full compatibility with current AF and older manual-focus Mamiya lenses. But it shares many of the features, and even the looks, of a 35mm DSLR.
Due to the size of the sensor (36.1x 48.1mm), Mamiya claims the ZD has a 1.2X lens factor in comparison with 6×4.5cm film, so a normal 80mm lens on the ZD delivers approximately the same field of view as a 95mm lens on its film cousin. (Because 6×4.5cm film is larger than 35mm film, an 80mm lens on a 6×4.5cm film camera captures the same field of view as a 50mm lens on a 35mm film camera.) This relatively small lens factor means that the popular Mamiya Super Wide Angle 35mm f/3.5 lens ($1,379 street) behaves more like a 42mm lens (about the same FOV as a 24mm lens on a 35mm SLR).
The secrets are out
Under tight security, we got an exclusive look at a preproduction ZD. While Mamiya assured us that most of the features on this unit have been locked in for final production, its image quality, metering accuracy, AF performance, and battery life were still in flux. So we'll have to wait for a production unit to run through the Pop Photo Lab. But what we found so far, plus the potential for ultrahigh image quality captured by a 21.5MP sensor, should have medium-format film shooters lining up.
Mamiya says the overall design of the ZD was influenced by the Mamiya 645AFd, a medium-format film/digital SLR with removable backs. Its body construction includes a die-cast aluminum-alloy internal frame, a magnesium-alloy top plate, and glass-reinforced polycarbonate outer covers. The new ZD also uses the same 645 AF lensmount as the 645AFd body, and is compatible with all 10 Mamiya lenses (including two zooms and the manual-focus 300mm f/2.8 APO lens). Other external similarities include the dedicated flash hot-shoe that supports TTL direct metering with Metz SCA3002, SCA3000, and SCA300-series flashes (adapters required).
At 2.6 pounds, the ZD body is lighter than the 645AFd, thanks to the lack of a film-winding mechanism and use of a lighter weight lithium ion battery. It also has its own personality in terms of exposure controls, dials, and buttons. On top, there's a nicely designed (and illuminated) semicircle LCD window with a single mode button under it. The window serves a dual purpose, displaying exposure settings, battery life, and shots remaining when turned on. Press the mode button, and you can set exposure modes while rotating the front control dial that's behind the shutter button.
On the menu
On the other side of the viewfinder prism housing, three buttons let you control meter patterns, lock images in playback, or move rapidly through menus on the ZD's 1.8-inch LCD-which is way too small for a camera of this nature and sophistication. But the fonts and icons on the LCD are readable. (Perhaps the smaller screen size will prevent pros from previewing, or "chimping," their images.)
Other controls and features on the ZD's back include a monochrome data LCD located under the color LCD that displays file formats, ISO, white balance setting, and remaining exposures. It also indicates which type of memory card is in use at the moment-either a CompactFlash Type I/II card (up to 8GB, including Microdrives) or an SD card. Easy-to-reach buttons let you quickly set ISO, image quality and formats (RAW, JPEG, or RAW + JPEG), and white balance (auto plus five presets, two custom settings, three-step fine adjustment, and color temperature in degrees Kelvin). If you shoot using the RAW + JPEG setting, the ZD lets you store the JPEGs in a separate folder on a CF card-a very useful timesaver. However, it doesn't look like the camera will be able to switch from CF to SD card automatically while shooting if the CF card fills up. Turning the camera off and on should switch it over, or you can do so through the menus.
Storage capacity and speed? Mamiya says that the ZD will capture up to 11 frames at 1.5 fps in the 21.5MP resolution mode when shooting either RAW or JPEGs. Not bad, considering the amount of data being processed and moved, but still well below the burst and capacities of the 16.6MP Canon EOS-1Ds Mark II (up to 24 highest-quality JPEGs at 4 fps).
The ZD has both high-speed FireWire and video-out ports. Video-out works only in playback or when adjusting menu controls, and can be set to NTSC or PAL standards. With Mamiya's Digital Photo Studio software, many of the ZD's exposure, metering, and image-quality controls can be set remotely from a computer attached via the FireWire cable-and you can fire the camera as well. This software, which comes with the camera, also lets you process RAW files and has some limited, but useful, image-editing features.
The view from inside
Internally, the ZD's electronically controlled, vertical-travel, metal focal-plane shutter is similar to the 645AFd's. In aperture-priority AE mode, the shutter is set from 30 to 1/4000 sec in 1¼8-step increments, while in manual you can vary the shutter speed in 1¼2 steps. Flash sync is up to 1/125 sec. Metering and exposure systems are also quite similar to those found on the 645AFd, as is the ZD's eye-level prism viewfinder. While the ZD's viewfinder has a similar spotmetering circle in the center and AF frame, Mamiya claims the viewfinder has a 0.75X magnification and shows 98 percent of the captured area, a noticeable
improvement over the 645AFd. We loved the size and clarity of the viewfinder, which wasn't cluttered with too many AF-zone markers or cropping lines, as on many other DSLRs. And some photographers will appreciate the ability to swap out the matte focusing screen for an optional checker-pattern screen. On the other hand, we found the data display a bit cluttered (see photo, previous page), and we also didn't like the viewfinder's poor eye-relief, which caused a slight vignetting when our eyes were a normal distance from the finder.
Kudos to Mamiya for the ZD's improved TTL Phase Difference Detection autofocus system, which now includes a central cross-type sensor in addition to two vertical sensors. Its higher sensitivity to both vertical and horizontal details will be appreciated, as will its powerful IR focus-assist beam. This system doesn't feature motion tracking or selectable AF zones, as do most 35mm DSLRs, so don't expect to see it at many sporting events.
Megapixel monster
Mamiya expects that most pros will be interested in this camera for its potentially ultrahigh image quality-not for its AF speed and burst performance. On that front, it packs a great deal of promise. According to Mamiya and the CCD's manufacturer, Dalsa, the ZD sensor provides the highest image quality available in an integrated SLR. The ZD also uses a new Dalsa ASIC (Application-Specific Integrated Circuit) to help speed image processing and storage. How good is the image quality? We'll find out for sure when we test a production version of this camera, but the specs for this sensor are impressive.
The camera also features a unique slot on its bottom that lets you remove the built-in IR cutoff filter in front of the CCD and replace it with an optional low-pass filter (price not available). The advantage? This system lets you choose between ultrahigh resolution (no low-pass filter) or slightly softer, more pleasing details (filter in place). And being able to remove the IR cutoff filter might make it a whole lot easier to shoot high-quality IR photos, as well as
remove any dust that would normally land on the CCD.
The ZD also packs a noise-reduction control and 31 custom functions (see photo, below left). The custom functions and extensive menu controls, in general, are very easy to read and set, and include color-space settings for Adobe RGB or sRGB, mirror lockup time for long exposures, highlight and exposure warnings in playback, and first- and second-curtain sync for flash shots. You also can customize the settings for use by three different photographers, a nice touch.
Nikon and Canon fodder?
Will the ZD steal the thunder from lower- megapixel models, such as Canon's 16.6MP EOS-1Ds Mark II or Nikon's 12.4MP D2x? That's doubtful, considering the lower price of these cameras, their superior AF, exposure and metering systems, their wider and faster burst modes, and more extensive accessories (including lenses and flash units). It's also likely that the smaller battery on the ZD will deliver only a fraction of the images that those CMOS-based SLRs can capture. But pros who already own a Mamiya 645 AF, in addition to several expensive Mamiya AF lenses, should be drawn like a magnet to this camera. (Current 645AFd owners, on the other hand, will probably opt for the 22MP Mamiya ZD back, which has the same sensor and image-processing capability, but at a lower price.) The Mamiya ZD will primarily attract those special photographers who value image quality above all else, and can't wait to show off this megapixel champion.