The Goods
A monitor you can draw on, a new scanner for your film, a giant of a tripod, and more hot stuff to check out.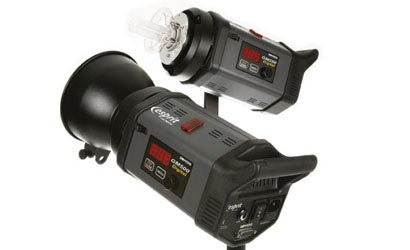 We may earn revenue from the products available on this page and participate in affiliate programs. Learn more ›
Stroke of Genius
$999, direct
www.wacom.com
If you don't believe that digital retouching is better with a tablet and pen than with a mouse, then you haven't tried Wacom's Cintiq 12WX. Hot: Connect to your computer and work with the stylus directly on Cintiq's screen; keep both hands busy with the frame's ExpressKeys and Touch Strips to zoom, scroll, and use shortcuts; and enjoy great screen resolution and a pen with 1,024 levels of pressure sensitivity — eraser included. Not: The 12.1-inch (diagonal) screen's a little small compared with Wacom's 20.1-inch Cintiq 20WSX. But, hey, the 12WX is half the price.
Film School
$800, street
www.microtek.com
Film scanning is an afterthought in many flatbed scanners, but not Microtek's ArtixScan M1 Pro. It can scan prints and documents, but film is its forte. Hot: Film holders for a range of sizes (35mm slides and filmstrips, 4×5-inch film, and 6cm film), high 4800-dpi optical resolution, autofocus, and the richly featured SilverFast Ai Studio software. Not: There's nothing special about its print and document scanning, but that's not why you're buying it.
Mile High Club
$325, street
www.bogenimaging.com
If you want an aerial perspective, but you're afraid of heights, Manfrotto's new 24-foot-tall tripod, the 269HDB-3U, could be the answer. Hot: The price — straps and stakes for stabilization included — is what you'd expect of a regular-sized tripod. Not: Unless you bring along a ladder, you'll need to use a long cable release or a wireless remote control.
HOW TO…
Add a little color to a black-and-white shot with the super-easy, one-stop image editor Color Select Studios ($15, direct). (www.magicsplash.com)
Put yourself in the game when you add your own pictures and property names with Photo-opoly ($30, direct). (photojojo.com/store)
Bounce pop-up flash by snapping a Lightscoop over it, a little piece of plastic genius ($30, direct). (www.lightscoop.com)
Use the wind to charge your camera when you plug it into a HYmini wind-powered charger and stick it out the window ($50, direct). (www.hymini.com)
Spy on your stylist with a wireless camera hidden in a hairdryer for $325, direct. (mysafetynow.com/pro809152.html)