Fujifilm FinePix F700: Six-Pack To Go
More megapixels. Less wait. Back when the Magic Number in digital compacts hit five (as in megapixels), Fuji had a...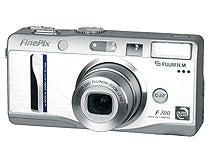 More megapixels. Less wait.
Back when the Magic Number in digital compacts hit five (as in megapixels), Fuji had a better idea… as in six MP. And while the Fujifilm FinePix F700 ($350 street) looks like a simple point-and-shoot, it surprises you at most every turn by doing things a little bit better.
The low and long metal-clad camera has a lean, clean look with a minimum of control clutter, and lets you have a decent two-handed grip. The viewfinder, though, is a squinty, low-magnification point-and-shoot affair. The bright, sharp, fine-grained monitor screen helps make up for it. Smart move: the monitor shuts off automatically to conserve battery power, goes live again at the touch of any button.
Turn the power on, and the F700 comes to life nearly instantaneously. The autofocus works lickety-split, too, thanks to an infrared-aid lamp and sensitivity to horizontal as well as vertical detail almost everywhere on the screen. Shutter and processing lag times are so low that you can essentially fire off shots as fast as you can lift your finger and hit the button. Want faster? The F700 has three burst modes, including two that will gobble five frames (any resolution) per second.
The F700's exposure modes work better than those on a P&S, too. Program auto, for example, allows for easy program shift (remember program shift?). Aperture-priority lets you set the full range of f-stops (f/2.8-8 at wide, f/4.9-14 at tele) in third-stops, instead of limiting you to two aperture settings. Same with manual mode, which shows exposure level via an arrow along a scale.
Want natural-looking fill flash? The F700 lets you set flash output levels from -0.6 EV to +0.3 EV in third-stops. (Three cheers for Fuji!) Not a big range, for sure, but it's more than you get with even some advanced digital compacts and EVF cameras.
For all that, you can set the camera to Auto and hand it to a kid to snapshoot away. The F700 also comes with a handy cradle for battery charging and one-touch uploads to the computer. Wrestle the camera back and give it to a serious user, and the camera can capture in RAW file format. And it will take 640×480 videos at 30 fps with mono sound.
Test results showed extremely high color accuracy, and resolution on a par with the better 5MP cameras we've tested, a little shy of typical 6MP results. The F700 shines in noise suppression: no more than moderately low noise up through the maximum ISO of 1600 (where resolution is limited to 1.2MP).
Fuji claims greater highlight-to-shadow range with its 4th Generation Super CCD SR, which combines large, light-sensitive pixels with small, less sensitive pixels. We did notice better detail in very bright highlights-not dramatic, but perceptible. Shadow detail also had more depth, helped greatly by the low noise.
We have a quibble or two. The jog dial is too small, and we're not sold on Fuji's multiple menu locations, in this case an "F" button beside the regular menu button.
But these are minor points. Shooters who want topnotch pictures without a lot of fuss-but still want an extra measure of control-should fall in love with both of the F700's personalities.
What's Hot:
Fast startup, AF, shooting. Low noise. Smart auto and manual modes. Adjustable fill-flash. Long battery life.
What's Not:
Two menu locations-guess where that setting is? Slowish max aperture of f/4.9 at tele. Dinky point-and-shoot viewfinder.
CERTIFIED TEST RESULTS: Fujifilm FinePix F700****Test results: Resolution: Extremely high (V1450xH1420xD1240). Color accuracy: Extremely High (Avg. Delta E: 9.91). Highlight/shadow detail: Very good. Contrast: Slightly high. Noise: Low at ISO 200, moderately low at ISO 400, 800, and 1600. Image quality: Extremely high. AF speed: Very fast; can balk on blank areas. Battery life (50% shots with flash): claimed, 150 shots; tested, 400. Vital statistics: 6.03MP (2832×2128), 35-105mm (equivalent) f/2.8-4.9, 3X optical zoom, 2.2X digital zoom, 1.8-inch LCD screen, xD card slot, proprietary Li-ion rechargeable battery, 4.3×2.1×1.1 inches, 6.7 ounces with card and battery Street price: $350 In the box: Li-ion rechargeable battery, AC adapter, camera cradle, A/V and USB cables, 16MB xD-Picture card, wriststrap, software (FinePix Viewer 4, Pixela ImageMixer VCD album, and RAW file converter) For more info: www.fujifilm.com; 800-800-3854
>> HOT DEALS!
Compare Prices
Download our Fujifilm FinePix F700 Test
-requires Adobe Acrobat Reader