Featured User Reviews
PopPhoto readers review Canon's Rebel XTi and PowerShot A540, the Nikon D2X, plus Canon 28-135mm, Nikon 200mm and 50mm lenses.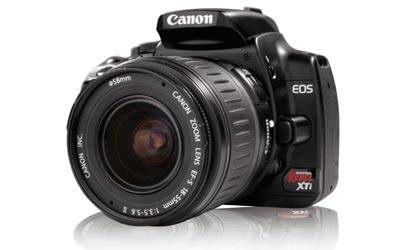 We may earn revenue from the products available on this page and participate in affiliate programs. Learn more ›
CAMERA USER REVIEWS
Canon EOS Digital Rebel XTi Review ($699 street)
Reviewer from Palm Spring, CA writes:
What's Hot: Great DSLR, once again Canon is the winner!
What's Not: None
Review: Great DSLR overall, affordable price with rich set of features taken from the 30D. Fast auto focus, sharp color-contrast and easy to use. I use this camera with the Canon 50mm f/1.8 II. Unbelievable… my photos are sharp with good blur background. I never regret buying this camera after growing sick and tired of point and shoot camera. I took a lot of pictures of kids playing sports with confidence, no worried of shutter lag. The camera also was fast to freeze Nascar cars at California Speedway last weekend. I'm happy with it and it should be a keeper for a long time!
Nikon D2X Review (MSRP: $4999)
Reviewer from Hong Kong writes:
What's Hot: 60mph onto concrete and it still works!
One of the reasons why I buy Nikon Cameras is that I have seen over the years how sturdy they are. OK, so I am clumsy, but I believe that along with most other photographers there are times when my cameras do not get the best of treatment. Whether it is the banging around during transportation, the bustle of taking photographs in a sports environment or just the occasional "oops," my cameras get rough treatment…and they must survive.
A couple of weeks ago I surpassed myself. Taking motorcycle racing photographs at the Zhuhai circuit in China I had to rush from the grid (gotta pic the babes as well) to a far flung corner of the circuit so I jumped on my small bike and powered round the service road. Going a tad faster than perhaps I should, I hit a bump going at about 60mph and one of my Nikon D2X bodies jumped out of the special box I have on the front of my bike, flew through the air then landed on the concrete surface before bouncing a couple of times.
Gotta be a total write-off surely — not even a Nikon can survive that. But it did. Yes, there was some quite extensive damage that is costing almost $500 to repair, but for the remainder of the day I continued using it. Focusing was still OK, exposures, CCD quality, etc. Unbelievable I know, but it is true.
Moral of the story? If you can't be more careful than me buy a Nikon!
Canon Powershot A540 Review ($185 street)
Reviewer from Rocky Mount, VA writes:
What's Hot: Flash+, ISO range+, Speed+, Battery Life +
What's Not: Small in the hand …that's all that wrong
Review: Great camera. My 4th digital cameran and by far the best. Read other review but what stands out is the intelligent flash system that narrows in on zoomed images. Like the speed of start up and focus. Takes point and shoot to new levels.
Write your own camera Review.LENS USER REVIEWS
Canon EF 28-135mm f/3.5-5.6 IS USM Review ($408 street)
Reviewer from Wilmington, OK writes:
What's Hot: The Canon 28-135 IS USM is the most versatile of all and the one I use almost all of the time.
Review: The 28-135 lense is by far the most versatile of all my lenses. I wind up using it it almost all professional and personal gatherings. No other lense in my bag gets as much use. Recently I used it to shoot outdoors on a professional snow tubing course. The fast focus, quick framing, and smooth operation made it great for working on the slopes without a lot of extra weight to carry around. I highly recommend this lense to anyone shooting either film or digitally.
Nikon 200mm f/2G ED-IF AF-S VR Nikkor Review
What's Hot: This lens is something special. Tack sharp, and beautiful bokeh. Warm, saturated colors. Amazing, and worth every penny
What's Not: A bit on the heavy side, and certainly not one for discreet street shooting. The massive front element will attract attention.
Review: I was lucky enough to get ahold of one of the first of these to come into the country, and have used it consistently ever since. This is an amazing lens. I've used it for everything from candid to formal portraiture, sports, and landscape. I've seen NO chromatic abberation, even stopped down (although I seldom want to shot this lens stopped down, it shines wide open). Wonderful, and vividly saturated images on D2X and D200. The bokeh with this lens is maybe the best I've ever seen; buttery smooth. This lens is worth every penny I paid for it.
Nikon 50mm f/1.8D AF Nikkor Review ($109 street)
George from Trenton, NJ writes:
What's Hot: Bright, sharp and cheap
What's Not: Bokeh isn't that good, at times is overly succeptable to flare. Build qulaity is not very good, although not bad for $100.
Review: A great bargain, sharp too. The overall image quality has some weakness. The bokeh is not too pleasing and the images it produces isn't always as vibrant as I'd wish without PP (Post Processing). You can reverse it using a BR-2A adapter but if you use a flash and the subject is reflective you will get some wierd flare.
Canon EF 70-300mm f/4-5.6 IS USM AF Review ($1099 street)
Joseph from Hamden, CT writes:
What's Hot: Very good image quality, wide range of focal lengths, 2 stage IS, very reasonable price.
What's Not: Will zoom in/out if tilted up/down without the zoom lock engaged, zoom lock only engages at the 70mm length, no hood or case included.
Review: Looking for a quality telephoto zoom with IS? Shopping on a budget? This is a hidden gem. It's just over half the price of the DO lens covering the same focal range and the image quality is at least as good, if not better (did I mention its actually lighter too?). I took a shot of the moon at 300mm with my Rebel XT and I was pleastly suprised with the clarity. A great lens for nature, wildlife or other outdoor photography where the 4-5.6 minimum apetures isnt an issue. The AF speed is also as quick and quiet as you would expect with Canon's USM technology. It would be nice to have a hood or case included – but at this price you can hardly complain. Proof that you can have a very good telephoto zoom lens for less than $1000 – much less.
Write your own lens Review.
Editor's Note: User Reviews do not reflect the opinions of the editors of PopPhoto.com. User Reviews should be used for informational purposes only to help you make an informed choice, not as a definitive authority on what camera or lens is most appropriate for you.