Editor's Choice: Best Digital Cameras Under $300
Here are 5 full-featured compact cameras we consider champs.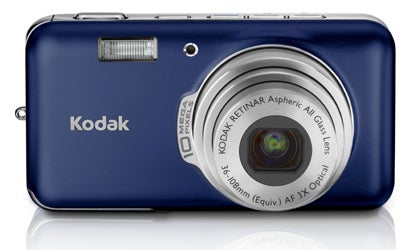 We may earn revenue from the products available on this page and participate in affiliate programs. Learn more ›
Pentax Optio A30
There's lots of help for the unsteady in this small package, starting with a shifting CCD image sensor that physically compensates for camera shake. Video mode (MPEG-4 for compact file sizes, DivX-certified) is digitally stabilized, and speeds go up to ISO 3,200 (stepped down to five megapixels) for low-light stability. You can even extract a decent still frame from a clip. The A30's aluminum-alloy body houses a 3X, 38-114mm (equivalent) f/2.8-5.4 zoom and a 2.5-inch LCD monitor. It accommodates a wide range of photo skills by offering everything from full-auto, including more than a dozen scene modes, to easy-toggling manual exposure. Whatever your technique, you can enhance the results with any of eight color filters or with a feature called color extract, which adds a single hue to part of an otherwise black-and-white image. About $250.
Kodak EasyShare V1003
Though it's the least expensive of our five, this model comes without compromise. Its user-friendly features include in-camera help screens and an undo-delete function that lets you retrieve a picture you've accidentally erased. The Favorites function stores display-sized files of your fondest shots in the V1003's internal memory, so you can share them on the spot. A shake alert warns you that your picture might be blurred if you don't use flash, while after-the-fact fixes allow cropping and red-eye removal. The new EasyShare mates with the line's computer and printer docks for one-button uploads or printing. Its 3X optical zoom is a 36-108mm (equivalent) f/2.8-4.9; the LCD screen measures 2.5 inches. You can shoot MPEG-4 video and set speeds up to ISO 1600. And the V1003 has one of the easiest panorama stitchers around. About $180, in any of nine colors including Pink Bliss and Mystic Purple.
Casio Exilim Z1080
The Best Shot modes on Casio cameras are almost a barometer of pop culture. First there was the eBay mode, which tailored image files to suit online auction purposes. Now, on the Z1080, you get YouTube mode, which shoots moving pictures at the optimum size and quality settings for uploading to video sharing sites. You can capture video in standard 640×480 (VGA) or wide-screen 848X480-pixel formats. The Z1080 has a 3X zoom (38-114 equivalent, f/2.8-5.1), a 2.6-inch LCD monitor, and auto-tracking AF to lock onto moving subjects. And what about still photography? The new model's Rapid Flash reduces recycling time so you can shoot three flash pictures in quick succession, and sensitivity goes up to ISO 3200 for photography without flash in dim light. Plus its world-time database of 162 cities in 32 time zones allows you to keep your EXIF data in order. About $220.
Samsung NV11
Samsung's NV cameras come only in black, but that's just right for their 35mm rangefinder looks. With its 5X optical range, the NV11 is the zooming leader of our five ten-megapixel models. (See box, above, if you're looking for more zoom power in a small package.) It also has the biggest LCD of the group, at 2.7 inches. And unlike its competitors, the camera's control buttons are lined up along the right side and bottom of the LCD; they're the hardware part of Samsung's SmartTouch interface, which substitutes on-screen control readouts for the usual menus and submenus. The camera has the full array of exposure modes, including program, aperture- and shutter-priority, and manual, plus about a dozen scene modes. (One of them, Business Card, takes a shot of same with proper contrast, also squaring it up.) Speeds range to ISO 1,600, and the camera can blast off 20 lower-resolution shots at 7fps. About $230.
Canon PowerShot SD900 ELPH
You get real titanium, not just the "finish," with this elegant yet capable point-and-shoot. The SD900 has a 3X zoom (comparable to 37-111mm f/2.8-4.9 in 35mm), a 2.5-inch LCD monitor (big enough), and Canon's DIGIC III image processor. DIGIC speeds up shooting so that the SD900 can fire bursts at over 2fps. Low-light sensitivity is also high at up to ISO 3200, and video can be shot at a higher-resolution 1024×768 pixels (at 15fps) in addition to standard 640X480 (at 30fps). Canon's signature My Colors menu allows you to selectively lighten or darken skin tones, swap one color with another in the frame, or keep a single color in an otherwise monochrome image. About $275 (after $50 rebate).
THIS JUST IN
We've had just enough time to squeeze in a quick look at a brand-new 10-megapixel compact from DXG, a Taiwan-based company that actually makes many of the cameras sold by the big names. The 3X-zooming, SD-using, AA-powered DXG-110 sets a new low for price in the 10-megapixel class, selling for $170 or less. Backed up by its ability to build a camera from the ground up, DXG accomplished this by paring down frills and focusing on image quality–and the new model largely outperformed a name-brand 12-megapixel compact that we arbitrarily selected. Though its shutter lag seemed a bit longer, the DXG-110 delivered more detail, produced a wider dynamic range, and controlled noise better. –Russell Hart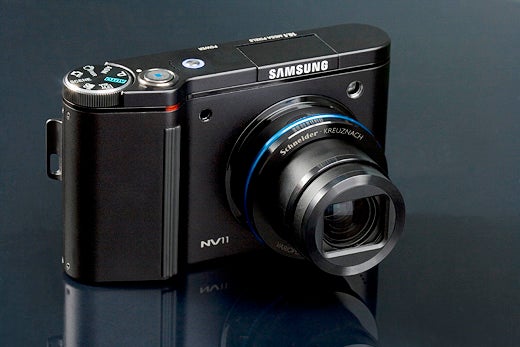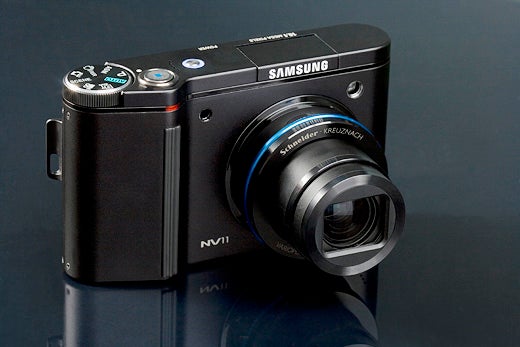 Samsung-NV11-Samsung-s-NV11-sports-a-stylish-rug
Samsung's NV11 sports a stylish, rugged, all-metal exterior finish that's bound to turn heads and get attention.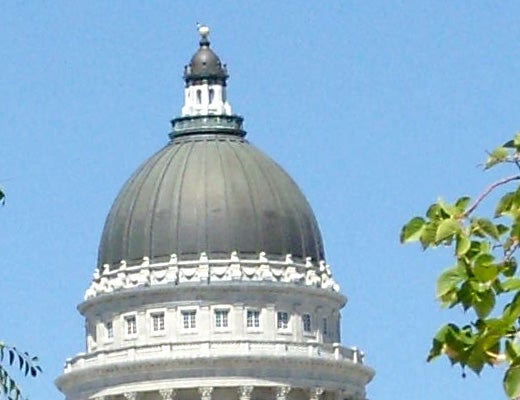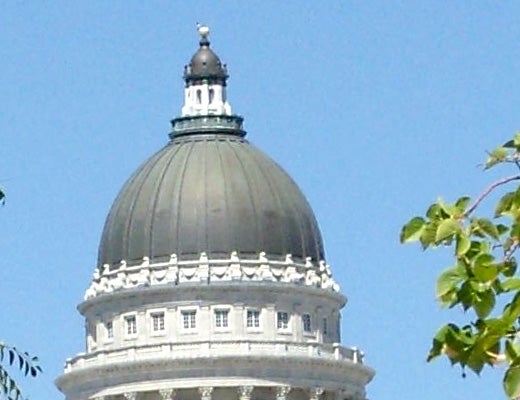 Samsung-NV11-A-full-sized-crop-of-the-previous-im
A full-sized crop of the previous image. Noise is visible at ISO 100, but not objectionable. On 4×6 prints of this image, it's just barely noticeable.