Editor's Choice 2006: Digital Image Storage & Display
Multitasking and connectedness are the defining qualities of the latest devices for storing, viewing, and sharing digital images.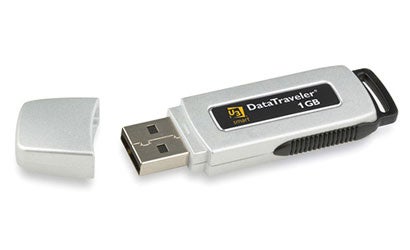 We may earn revenue from the products available on this page and participate in affiliate programs. Learn more ›
|||| |—|—|—| | | | Multitasking and connectedness are the defining qualities of the latest devices for storing, viewing, and sharing digital images. Among them are a mini-switchboard that swaps memory card data, a DVD writer that prints labels, a hard drive that networks your home, and a storage viewer that can Wi-Fi with your camera.
Kingston Technology U3 DataTraveler
Unlike a conventional USB flash drive, this tiny 2GB model complies with the U3 portable computing standard, allowing you to securely operate your own applications straight from the drive on any computer running Windows 2000 or XP. (Think library or Internet cafe.) The DataTraveler actually comes with three U3 apps: ACDSee, for organizing and editing photos; Pass2Go, which manages your personal Web passwords and forms; and Zinio, which reads and stores downloadable electronic magazines. (You can get more U3 programs at software.u3.com.) About $70.
|||| |—|—|—| | | | The screen's still the selling point in this roomier update of last year's P-2000, our favorite digital photo storage viewer. The P-4000 keeps the latter's gorgeous 3.8-inch color LCD but doubles hard drive size to 80GB and comes with a longer-lived battery. It stores and displays RAW files from more D-SLRs, as well as from Epson's own R-D1 digital rangefinders; you can play video in several formats, along with MP3 music and ACC audio files. (There's AC-out for TV viewing.) Card slots accommodate both CF and SD, the R-D1's format. PictBridge capability means you can output straight to a compatible printer-no need to download first to your computer. About $610.
|||| |—|—|—| | | | This affordable Network Attached Storage (NAS) drive provides centralized file access for multiple computers in a home or small office, without the complexities of a standard network installation. When connected via its Ethernet or USB 2.0 ports, it effectively creates its own network but appears on each computer as a local drive; you configure it through your Web browser. About $280 (50GB) and $380 (400GB).
|||| |—|—|—| | | | (BEST BUY)
This nine-ounce drive is built for hard knocks inside and out-the latter thanks to an aluminum case and shock-absorbing rubber bumpers. It's hard to lose despite its sub-4×6 dimensions because it has flaming-orange trim. Operation is both "plug-and-play" and bus-powered. Hi-Speed USB 2 and combined FireWire 800/400/USB 2 versions are available. From $170 (80GB) to $360 (120GB).
|||| |—|—|—| | | | This unique DVD writer takes the complexity out of disk burning and backups. It looks like a standard external USB 2.0 optical drive, but it features two extra buttons that activate special software on a Windows PC. Hit the File button for simple drag-and-drop backup. Hit the Dub button and you get three sequential onscreen prompts for disk copying. The EZ-DUB writes to most recordable DVD and CD formats. About $100.
|||| |—|—|—| | | | Lexar JumpDrive Secure II
Unlike most of its competitors, this good-looking USB 2.0 flash drive is designed to keep your data private. It does this with preloaded Secure II Dashboard software, which lets you create password-protected "encrypted vaults" on the drive itself or on the host computer, Windows or Mac. The "file shredder" feature insures that deleted data stays deleted. From $20 (256MB) to $100 (2GB).
|||| |—|—|—| | | | With a bright, beautiful 3.7-inch screen, this portable multimedia player gives the Epson P-4000 stiff competition. Rubberized and shock-resistant, it offers superfast transfers from CF cards; its DVI output lets you run a digital projector directly from the unit. Our favorite feature, though, is the Evolution's ability to receive images wirelessly from a 
Wi-Fi D-SLR. From $500 to $900 (40 to 120 GB).
Sony Compact Vault
Using a tiny one-inch hard drive instead of the usual static flash memory, Sony's CompactVault gives you massive storage at lower cost than any 8GB CompactFlash memory card. (Make sure your digital camera accepts the thicker CF Type II card profile.) About $250.
Like its equally rugged Extreme III-series Secure Digital and Memory Stick cousins, SanDisk's latest CompactFlash card offers a speedy 20MB-per-second read/write speed, making it the fastest 8GB card on the market. And since it has the thinner CF Type I form factor, you can use it in a greater variety of digital cameras. About $430
These very fast Secure Digital cards from Kingston Technology offer performance similar to that of competing SanDisk and Lexar offerings but at significantly lower prices-for now. (The price per megabyte of memory cards seems to drop in inverse proportion to the price of gasoline.) About $65 (1GB SD, which features 133X speed) and $100 (2GB SD, which features 120X speed)
Lexar's Professional Series memory cards get a major speed bump up to 20MB-per-second, and proprietary Write Acceleration (WA) technology enhances their performance in digital SLRs. Image Rescue 2.0 file-retrieval software is included. About $95 (1GB CF) to $270 (4GB CF).
Why no one thought of this before is a mystery. The ScreenPlay looks like a compact 60GB USB 2.0 hard drive, but it includes an AV-out connection and cables so you can hook it up to (almost) any television, receiver, or home entertainment center-bypassing your computer. Using the ScreenPlay's remote and the DVD-style menus it displays on TV, you can play back photo slide shows, MP3 music, and video in several formats. Perfect for travel, it weighs seven ounces and measures 5.2x3x0.7 inches. About $220.
If you need to store a large number of photographs and have superfast access to them all, consider this curvy, dual-drive external RAID (Redundant Array of Independent Disks). It's available in 500GB and 1TB (terabyte) versions. When configured with both drives "striped" together, it can reach a blistering 115MB/sec transfer rate via its advanced Serial ATA II interface. That connection requires a PCI-X card and cable, both included. The Two Big's other modes include maximum data safety and maximum capacity. And either drive can be "hot swapped." About $470 and $950.
Labeling DVDs can be a hassle. Hand-write on the disk and you risk data corruption; use printable stickers and you risk playback problems; buy a dedicated disk-printing inkjet and you're out the extra cash. This 16X dual-layer DVD burner solves the problem with LightScribe technology, which employs the drive's own internal laser and dedicated software to etch custom labels on LightScribe-compatible disks. (You burn the DVD first, then flip it over to print.) The Flash DVD has slots for nine memory card formats. About $135 (external) and $65 (internal)
Call it a portable data switchboard. This clever sharing device lets you transfer photos, video, music, and text files between two USB mass storage devices (including external hard drives, flash drives, MP3 players, and many digital cameras), between two memory cards (even of differing formats), or between a memory card and a USB device-all without the need for a computer. The TravelLink has an LCD screen with copy, transfer, and delete options, is powered by three AAA batteries, and doubles as an 8-in-1 card reader when connected to your computer. About $80.
This stand-alone disk burner can be used for simple backup of your digital camera's memory cards, with slots for five different formats. But it also lets you create "slide show" DVDs of pictures on your cards-no computer needed-that can be viewed on home DVD players. There's a two-inch color LCD screen for previewing images, handy for printing directly to a PictBridge-enabled printer. But we confess that our fondness for the VRD-MC1 isn't strictly photographic: We also used it for one-touch burning of home videos to DVD, with chapters and menus. About $300.