The Class of 2008
These breakout DSLRs are destined to be next year's stars. Plus, Canon and Nikon's newest pro models compared, and an entry-level DSLR from Panasonic.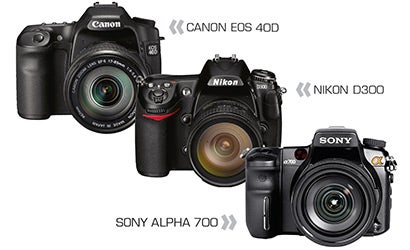 Call it the Year of the Enthusiast's Camera. Three DSLR makers have introduced new breakthrough models aimed squarely at the advanced amateur. The Canon EOS 40D, Nikon D300, and Sony Alpha 700 all promise higher resolution and noise reduction, faster burst rates, better optical and electronic viewing, and finer autofocusing than on earlier cameras in this category, including the Canon EOS 30D, Nikon D200, and Sony Alpha 100. Other improvements: beefed-up bodies, extensive customization options, and wireless connectivity.
Add to that new lenses, optional vertical grips, and other accessories, an entry-level DSLR from Panasonic (see "Beginner's Luck"), plus two pro-level super cameras from Canon and Nikon (see "Varsity Squad"), and you have one of the richest lodes of SLR gear ever.
The Canon EOS 40D ($1,300, estimated street, body only; $1,400 with 28-135mm f/3.5-5.6 EF IS lens) replaces the 30D; it should be in stores now.
The Nikon D300 ($1,700, estimated street, body only) is scheduled to become available early in November. Nikon's lower-priced 10.2MP D200 will remain in the line, at least for the near future.
And with Sony aggressively filling in its lens line, the Alpha 700 ($1,400 estimated street, body only; $1,900 with 16-105mm f/3.5-5.6 Sony DT lens), a big step up from 2005's Alpha 100, presents genuine competition to the dominant DSLR players. It should be hitting stores in October.
CHIPS AHOY
In imaging, 12MP is the new 10MP, and CMOS sensor technology is replacing the CCD as the universal chip of choice. The Nikon D300 and Sony Alpha 700 use a similar CMOS sensor (12.2MP in the Sony; 12.3MP, effective, in the Nikon). Indeed, the Nikon D300's sensor is made by Sony, although there might be some slight differences in their architecture.
The surprise here is that Canon took the EOS 40D to only 10.1MP from 8.2MP, using essentially the same CMOS chip that's in the EOS Digital Rebel XTi, although the company says that new microlenses on the sensor have improved image quality and sensitivity significantly. (We'll put that claim — and all others — to the test; see upcoming issues and watch PopPhoto.com.)
The real story here, though, is not pixel count, but capture speed and noise control. The slowest camera of this group, the Sony, can gobble full-resolution JPEGs at 5 frames per second, up to the capacity of the card; the Nikon shoots at 6 fps (8 fps with an optional battery grip), up to 100 JPEGs; and the Canon can do 6.5 fps, up to 75 JPEGs. The Canon and Nikon are therefore significantly faster, and with a higher capacity, than before, when the top capture speed for this class (from the Nikon D200) was 5 fps, up to 37 JPEGs.
Startup times and shutter lag have shrunk accordingly, with milliseconds vying with megapixels in manufacturers' bragging rights. And all three of the new cameras have 14-bit image processing and new image-processing engines: The Canon boasts a DIGIC III processor, Nikon has a newly dubbed EXPEED processor, and Sony uses a newer BIONZ processor.
One advantage of the CMOS chip over a CCD is that the analog-to-digital signal conversion can be done directly on the chip, which, theoretically, makes for a cleaner final signal with less digital noise.
In fact, all three manufacturers claim dramatic improvement in noise control, to the extent that the Nikon and Sony offer up to ISO 3200 in their normal ranges, and Canon up to ISO 1600. Nikon and Sony go to ISO 6400 in their extended ranges, Canon to ISO 3200. (And that's kid stuff compared with the new Nikon pro camera described in the sidebar.) In the last-generation DSLR, ISO 3200 was the limit.
Combine this sensitivity with optical image stabilization (camera sensor or lens-based), and low-light shooters are going to have a great time. Sony, for example, upgraded its sensor-based Super SteadyShot IS system for a claimed 4-stop gain in handholding.
Another feature that was once a high-end novelty and is now a standard: sensor self-cleaning. All three models have it, and the Canon and Nikon also provide software dust mapping and deletion software.
The 2-inch LCDs we lauded a year or two ago are now dinky relics. A huge 3 inches, with a wide viewing angle, is the new standard.
Two of the new cameras, the Nikon and Sony, have spectacular VGA-resolution screens that provide 260 and 266 dpi — photo quality — display of images with viewing angles of 170 degrees. And both Nikon and Sony list screen resolution in terms of dots — up to 921,000 of them, the total of R, G, and B elements, and the same as 307,000 pixels. Sony's screen also becomes automatically brighter in sunlight, a real plus. Nikon and Sony screens have much greater resolution than the Canon screen, which features a resolution of 76,800 pixels and a 140-degree viewing angle.
Still more impressive, the Canon and the Nikon go the next step with live view from the image sensor. Until recently, the only DSLRs that allowed this were from Olympus and Panasonic; the Canon EOS-1D Mark III entering the game mere months ago. Both also allow remote control with live preview, a useful tool for studio and nature photographers.
Allowing the big LCD to be used as a control panel is also popular. Indeed, on the Sony A700, the LCD must serve as the control panel because there isn't one on top of the camera. On the Nikon D300, you have a choice of using the top-deck control panel or the LCD. This arrangement should keep everybody happy — those who like the highly legible type on an LCD, and those who like to glance down at their chest-level cameras to check settings. The Canon, meanwhile, continues the traditional arrangement: control readouts on top, rear monitor for picture review and menu settings.
Optical viewing hasn't been ignored, either. Canon and Sony have boosted the magnification and eye-point distance of their finders, and the Nikon D300 has a claimed 100 percent viewfinder accuracy. In addition, all three use glass pentaprisms for brighter, sharper images.
FURIOUS FOCUSING
These camera makers are known for the speed and precision of their autofocus systems, and not one is resting on its laurels.
Though Canon is carrying forward the 30D's nine-point diamond-pattern array, in the 40D every point is a more-sensitive cross-type sensor, with an enhanced-precision center spot active with lenses of f/2.8 or brighter maximum apertures. And in a first for Canon DSLRs, the 40D has user-interchangeable focusing screens, a boon to photographers who like to manually fine-tune their focus.
The Sony A700's 11-point array at first looks identical to the Alpha 100's diamond pattern. But the center sensor is made up of five individual sensors, a unique design that combines two horizontal and two vertical sensors surrounding a cross-type sensor. What's more, the central AF sensor array of the Sony also has a high-precision f/2.8 horizontal sensor that activates on lenses f/2.8 and faster. The camera's focusing screen can be changed, but only at a service center. Like the A100, it features eye-activated AF.
For sheer audacity, though, Nikon takes the award. The D300 has an array of 51 AF sensors, 15 of them cross-type, and all of them functional with lenses having maximum apertures of f/5.6 or larger, which includes the entire Nikkor lens family. Scene Recognition mode allows autofocus tracking by color (a football jersey, say). And there are two AF modes on the Nikon for use in live view mode. Slower than normal AF in either case, one is for handholding and the other for tripod-mounted shots.
PHOTO FINISHING
Increasingly, manufacturers are building photo-editing functions into the cameras themselves. These three models are cases in point, with contrast control taking center stage. Sony's Dynamic Range Optimizer (DRO) gets five selectable levels on the A700, and the DRO levels can also be added during RAW image processing. The Nikon D300's Active D-lighting can not only bring up shadow detail on the fly, but can optimize the highlight exposure in the same frame. And the Canon 40D gets a trick from big brother EOS-1D Mark III: Highlight Tone Priority, which stretches out the range from midtone to maximum highlight.
Each DSLR also allows extensive tweaking of image profiles. Whether they're called Picture Styles or Color Styles or Picture Control, the idea is the same: a choice of preset profiles, each of which can be customized. These are often quite sophisticated. For instance, the Nikon D300 offers in-camera correction of lateral chromatic aberration based on analysis of RAW data, and not the specific lens used.
And, recognizing that more shooters are using RAW capture, all models offer ways to work with smaller files. The Canon 40D has a 2.5MP small RAW (sRAW) option, while the Sony A700 and Nikon D300 give you a lossless-compression mode for full-size RAW files.
Both the Canon and Nikon models can accept an accessory wireless device for Wi-Fi transmission of images or to link to a GPS system or external storage drive.
While no such attachment has been announced for the Sony A700, it's unique among current DSLRs in that it has an infrared remote release, which can also function as a slide show controller. That may come in handy for showing off images from the Sony on an HDTV, since this camera (and the Nikon D300) have an HDMI interface for 1080i resolution video output to high-definition screens.
Tanks for the Memories
These babies are built. All of them have magnesium-alloy casings on top of metal frames — stainless steel in the Canon, magnesium alloy in the Nikon, and aluminum alloy in the Sony.
The Canon 40D gets extra weathersealing, compared with its predecessor, the 30D. The Sony A700 packs protective gasketing on every external control, unlike the A100, and remains lighter than the 40D or D300. But the D300 takes the protection prize, with robust weathersealing similar to that of the D200, including a gasket surrounding its lockable CF card door. (There's no gasket on the Sony A700 card door.)
All three manufacturers offer optional battery grips with vertical shutter releases and weathersealing. Canon's is backward compatible with the EOS 20D and 30D.
The shutters on the Canon 40D and Sony A700 are rated for 100,000 cycles; the Nikon D300's for 150,000. Construction like this ensures that these cameras will see plenty of professional, as well as advanced amateur, use.
An aside: The Sony A700 is distinctly reminiscent of the late Konica Minolta Maxxum 7D, given its dual command dials and numerous external controls. We were impressed with the attention to detail, like the accessory battery grip that duplicates the ergonomics of the horizontal grip.
THE BOTTOM LINE
Any way you look at these three flagships of the midfleet, photographers benefit. Advanced amateurs get a new level of quality and image control. Pros have more options for backup bodies — or primary cameras. And entry-level shooters will see technology from these cameras trickle down to lower-priced models. It's going to be a very good year for DSLR shooters.
It's not just their bigger, tougher bodies that put Canon and Nikon's new pro-level DSLRs at the top of the roster. Or their estimated street prices — $8,000 (body only) for the Canon EOS-1Ds Mark III and $5,000 (body only) for the Nikon D3. It's also their faster speeds, greater flexibility, more precise control, and broader set of skills. And perhaps most of all, their full-frame sensors that differentiate these two models from their advanced-amateur teammates.
We're eager to see how they perform in the field and in the Pop Photo Lab. Look for our Certified Test Results in future issues of the magazine and on PopPhoto.com.
The Canon and Nikon's new CMOS sensors, similar in size to a frame of 35mm film, eliminate the 1.6X or 1.5X lens factor (so your wide-angle lenses are truly wide) and allow for larger pixels and increased sensitivity to light.
While Canon's older EOS-1Ds Mark II and semi-pro EOS 5D both sport full-frame sensors, the new IDs Mark III outflanks them with a 21.1-megapixel chip. That's more than twice as many pixels as on the 1D Mark III, released earlier this year, and almost as many as you'd get on a 22MP medium-format digital camera back.
Nikon calls its big new sensor the FX format. The smaller, APS-sized sensor in other Nikon DSLRs is the DX. Although at 12.1MP, it will undoubtedly produce images with less resolution than the Canon, Nikon claims an advantage in burst speed. (There is, after all, less data to process with each shot.) The Nikon's burst rate: 9 frames per second versus 5 fps for the Canon.
With fewer pixels in the same full-frame real estate, the D3 may also have another image-quality advantage: Each of the 12.1 million cells measures 8.5 microns across (compared with 6.4 microns on the Canon). Nikon's goal with its fewer-is-better approach is increased light sensitivity and lower noise levels at higher ISOs. To prove the point, this camera's regular ISO range is 200 to 6400 (compared with 100 to 3200 on the Canon), with an extended ISO range all the way up to 25,600. Talk about shooting in the dark…
Both cameras pack equally impressive metering systems, image-quality controls, custom functions, and tough, weathersealed bodies. They also boast improved AF systems, 3-inch LCDs with live view, 300,000-shot shutter mechanisms, multiple memory-card slots, and long-life lithium ion batteries.
The Canon 1Ds Mark III body and 45-point AF system are nearly identical to the 1D Mark III, and that's good news. The AF system includes 19 cross-type sensors that are active with f/2.8 or brighter lenses. Images in live view can be magnified up to 10X for more precise manual focus. And its 3-inch LCD has 230,000-pixel resolution and a 140-degree viewing angle. There's a CF card slot (UDMA-compatible), as well as an SD card slot (SDHC-compatible), and you can simultaneously write files to both cards as well as to a connected external hard drive.
The Nikon D3 has a completely new body, like the D300, and a new 51-zone AF system with 15 cross-type sensors that are active with all Nikkor lenses (f/5.6 or brighter). It has two AF modes for use in live view (one for handheld shooting, one for tripod) and a Scene Recognition mode that tracks a subject by color. A virtual horizon indicator that helps you level the camera is viewable in the optical viewfinder or on the LCD.
And what an LCD it is — 307,000 pixels behind a tempered glass screen, delivering unprecedented image detail with a 170-degree viewing angle. There are twin CF card slots (compatible with high-speed UDMA cards), and an HDMI connector so you can show stills in 1080i on a high-def TV.
Lens compatibility is a major point of difference. Canon shooters won't be able to use the less-expensive EF-S digital-only lenses on the 1Ds Mark III. On the other hand, the Nikon D3 works with all DX-series digital lenses, automatically switching the field of view in the viewfinder to a 1.5X crop.
Both models can be controlled from a computer using software supplied with the camera. Canon includes a free, advanced RAW processing utility, while Nikon supplies a basic NEF RAW file utility and charges $129 extra for its Capture NX Advanced software.
Pros and serious amateurs (with serious budgets) who are willing to spend what it takes to get the most durable, high-performance DSLRs have a lot to look forward to in the Canon EOS-1Ds Mark III and Nikon D3. The tests aren't in yet, but records will be shattered.
— Michael J. McNamara
Panasonic's new DSLR is meant for those trading up from a compact or electronic viewfinder (EVF) camera. The 10.1MP Lumix DMC-L10 is small, simple to use, and feature-packed.
The 2.5-inch LCD has 207,000-pixel resolution, gives you a live preview, and even swivels. Inside is Panasonic's Venus III processing engine, and, like the newest Lumix compacts, it detects and tracks up to 15 faces in a scene for optimal skin tones and portrait exposures. Advanced scene modes are also part of the package.
There's even a lot for serious shooters to like. Remember film? This DSLR can mimic the look of classic emulsions. You also can save in RAW + JPEG. (The burst mode, however, is just 3 fps for up to 3 RAW or unlimited highest-quality JPEGs).
Impressive, too, is the kit glass — a Leica 14-50mm f/3.8-5.6 lens. Like the earlier 7.5MP Lumix DMC-L1 and all Olympus DSLRs, the new L10 uses a Four Thirds-standard sensor with a 2X lens factor.
As part of a partnership with Leica, Panasonic pairs its DSLRs with lenses bearing the famous German marque. That was a perfect fit for the earlier DSLR, aimed at the advanced amateurs. But for this one, it may be overkill. After all, the lens alone sells for $699 (estimated street). Yes, it has an improved MEGA Optical Image Stabilization system with three settings. But it's far more expensive than other kit lenses. And the camera isn't available without it — which explains the $1,300 (street) package price.
Will the Leica glass push the L10's performance far ahead of the pack? Will this DSLR dramatically outshine, say, the 10MP Olympus E-510 with its comparable Zuiko lens? We won't know until we put the Lumix/Leica through the Pop Photo Lab. But it's hard to believe the lens will make much difference.
Still, this innovative new Lumix could challenge the Canon EOS Digital Rebel XTi, Nikon D80, and Pentax K10D — if potential buyers realize the value of the Leica lens.
If not, that crowd will stay with sub-$1,000 DSLRs, and be content with low-buck kit lenses and whatever IS system they might get.
— Michael J. McNamara