Camera Test: Panasonic Lumix DMC-L1
This new 7.5MP digital SLR has some big photographic names -- Leica and Olympus -- in its corner. But can it perform?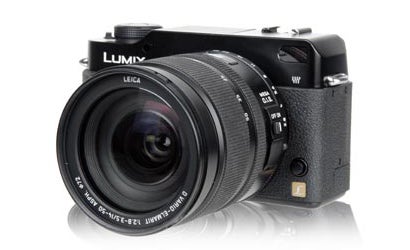 We may earn revenue from the products available on this page and participate in affiliate programs. Learn more ›
It's not easy being the new kid on the block, but it helps to have friends who are well known in the neighborhood. Take Panasonic, new to digital SLRs, and veterans Olympus and Leica. With their help, Panasonic hopes its new 7.5MP Lumix DMC-L1 DSLR ($1,900, street, with lens) will stand tall against the big guys.
But does this new camera have what it takes? Now that we've given a production version a complete check-up in the Pop Photo Lab and taken the L1 for a spin in the field, we think it does.
For starters, we were extremely impressed by the stellar performance of the Leica D Vario-Elmarit 14-50mm f/2.8-3.5 lens that ships with the L1 (see the test at the end of this story). Leica film camera owners would kill for this lens, not just for its zoom range, but because it's the only interchangeable Leica lens that features Panasonic's built-in MEGA OIS (Optical Image Stabilization). Unfortunately for them, it's available only in a Four Thirds mount, and it won't be available separately for Four Thirds system DSLRs from Olympus until sometime in 2007 (at an estimated street price of $1,300).
What's Hot • Live preview mode allows extremely fine macro focusing. • Super-sharp Leica zoom with MEGA OIS. • Lots of controls and custom menu settings. What's Not • High price for 7.5MP DSLR, since camera body and lens are sold together. • Awkward design of buttons and controls. • AF system slows in low light. Who's This For? Photographers who want a high-quality zoom lens with image stabilization — which happens to be attached to a DSLR that has live preview and ultrasonic dust removal. Competitive Set • Canon EOS 30D • Nikon D80
We wish the L1 were available for purchase without the Leica lens, since there are many lower-cost lens alternatives available from both Olympus and Sigma that would bring this camera's initial price down considerably. Indeed, sticker shock may be the L1's biggest drawback and will have many budget-minded DSLR shoppers wondering why they should pay almost two grand for a 7.5MP camera when the Olympus Evolt E-330 costs under $1,000 with the Zuiko 14-45mm f/3.5-4.5 lens (albeit without built-in image stabilization).
However, a sharp lens is only one of the ingredients needed to get a detailed, high-quality image from a digital camera. Let's take a closer look at the others.
What's Inside
The L1 has the same 7.5MP Live MOS sensor as the Evolt E-330 and captures an image with a 4:3 aspect ratio similar to all Olympus DSLR models and most compact digital cameras. The size of that sensor gives the camera a 2X 35mm lens factor, doubling the equivalent focal length to 28-100mm. But since the sensor produces an image that isn't as wide as those from a 3:2 aspect-ratio DSLR or 35mm camera, the potential resolution is comparable to what you might find on an 8.5MP DSLR with a 3:2 format.
The super-sharp Leica lens helps explain why the Lumix's resolution test scores in our lab place it slightly ahead of the 8.2MP Canon EOS 30D in sharpness and help it achieve an Excellent resolution rating. The low power consumption of the sensor also helps the L1 achieve a CIPA battery life rating of more than 400 shots with its rechargeable Li-ion battery.
However, the L1 scores slightly lower in color accuracy than the Evolt E-330, with an average Delta E of 9.49 (Extremely High). And while it holds down noise rather well at ISO 100 and 200 (Very Low and Low, respectively), the levels creep up to Moderately Low by ISO 400. After that, noise reduction kicks in at ISO 800 with a slight reduction in resolution to about 1,650 lines and a return to a Low noise rating.
Keep in mind, though, that as we found in our test of the Lumix DMC-LX2 (November 2006), the DMC-L1 gives you control over the noise reduction, so you can lean towards increased detail or towards lower amounts of noise, based on your preferences or scene content.
At ISO 1600, even with noise reduction provided by Panasonic's Venus III image-processing engine, images are fairly noisy, with a Moderate rating. As a result, the L1 earns an Extremely High image quality rating from ISO 100 to 800, but High at ISO 1600. This means that you could make impressive enlargements up to 12×16 inches on most photo-quality printers from shots made at ISO 100 to 800.
The Venus engine also gives the L1 a burst capacity of up to 3 frames per second for JPEG or RAW images. However, with the highest-quality JPEGs, you can maintain that burst speed (or it may slow to 2 fps depending on the write speed of the SD card) until the card fills up. In RAW mode, up to six images can be captured in a burst of 3 fps.
This camera is built tough enough to take a beating, with a magnesium alloy casing and top panel, plus a stainless steel lensmount. In the hand, the camera is well balanced, and feels solid — although it's a bit heavy with the Leica lens attached.
From the front, the L1 has the look of a traditional rangefinder, without the bulging mirror assembly of most other DSLRs. Its flat-top design reveals its shared roots with the Olympus Evolt E-300 and 330, both of which use a swiveling porro mirror system that directs light to an optical viewfinder on the side and enables the live viewing mode in the 2.5-inch LCD monitor.
The L1 uses the exact same mirror assembly as the E-300, whereas the E-330 has an extra 5MP sensor in line that enables a live image preview with the mirror in the down position (Mode A). The L1's live preview functions in the same way as the E-330's Mode B: Press the Live View button next to the viewfinder, and the mirror swings to the side, giving you a live image on the LCD. In the process, the optical viewfinder is disabled.
The L1 can autofocus in this Live View mode, but AF occurs just prior to the actual image capture, when the mirror quickly swings back in line for a split second. It's a noisy though effective way to achieve autofocus.
Manual focus in live mode is also easy with the help of a magnified focus-assist area that lets you fine-tune the focus. It can be set to 4X or 10X magnification, and can be moved around the frame to the subject of highest interest.
In the live mode, the depth-of-field preview button stops down the lens to the aperture you've set, giving you a preview of the area in focus. But unlike DOF preview through the optical viewfinder — which provides a dark, hard-to-see image at small apertures, just as it does on all other SLRs and DSLRs — the live LCD image on the L1 remains bright at all apertures, a wonderful feature for macro photography and portraiture.
Our Certified Lab Tests are done under very controlled lighting conditions, but a camera's performance in the field, when faced with mixed lighting or moving subjects, can differ greatly. The L1 does rather well when handling lighting and exposure challenges, as it packs many advanced exposure, white balance, metering, and image-quality controls, as well as programmable film-emulation modes.
As for autofocus performance, the DMC-L1 is outgunned by every Canon, Nikon, Pentax, Sigma, and Sony DSLR in terms of speed (in moderate to low light) and in subject tracking ability. With only 3 selectable AF zones, one cross-type sensor, and sluggish performance at light levels of EV 6 and below (at ISO 100), we wish the viewfinder included a split prism area to help focus manually. While there is a focus-assist light that can be set to automatically turn on in low light (EV 4 or below) and speed up the system, its slow AF and mediocre tracking won't appeal to sports or action photographers.
Count the Buttons
The top of the L1 is relatively uncluttered, with a shutter speed dial, shutter release, and two programmable buttons dominating the right side.
On the left is a dedicated hot-shoe for the optional Panasonic DMW-FL500 flash ($550, estimated street). Until you pop up the flash, it's nearly invisible. Press the flash button lightly and the flash pops up in angled-bounce mode, a feature we'd like on more built-in flashes. Press it firmly, and it extends fully for front flash, but you have to make sure the subject is further than 8.2 feet from the camera or the zoom lens will cast a shadow on the scene — a reason to invest immediately in an external flash.
Changing shutter speeds is easy, thanks to the knurled, well-marked shutter speed dial on top. But to access aperture-priority mode, you have to turn the shutter speed dial to A and then set the aperture the old-fashioned way, by rotating the aperture ring on the Leica lens. This method brought back fond memories from our film-shooting days, and it appears that future lenses from Panasonic will continue with the manual aperture ring control, based on the recent introduction of the Leica 25mm f/1.4 lens (available in 2007, price not yet set). When mounting an Olympus or Sigma lens on the L1 (or any other lens designed for the Four Thirds lens system), aperture control is activated by pressing the Function 1 button on the top of the camera and then rotating the command dial on the back.
Compared with the front and top of the camera, the back is cluttered with buttons (perhaps more than necessary), including a row on each side of the LCD to bring up menus for everything from white balance to flash-exposure compensation. When you use these to bring up control menus and sliders, though, you often can't use the four-way cursor buttons to navigate. Instead, you must scroll through the selections using the command dial. Let's hope that the use of the cursor buttons is modified in future firmware upgrades that Panasonic plans for the L1.
Bottom LineWith its excellent stabilized zoom lens, live preview, and bright-image DOF capability, the L1 offers some significant benefits over most other DSLRs.
Is it worth the $1,900 price tag? If you subtract the value of the Leica 14-50mm stabilized lens, you're getting a well-built DSLR with a dual-position pop-up flash, tons of controls, and Extremely High image quality at most ISO speeds for only about $600. Try to beat that!
Vital Statistics• Imaging: 7.5MP (effective) Live MOS sensor captures 3136×2352-pixel images at 4:3 aspect ratio with 12 bits/color in RAW mode.
• Storage: SD/SDHC and MMC cards. Stores JPEG, RAW, or JPEG + RAW.
• Burst rate: Up to 6 highest-quality JPEGs or RAW files at 3 fps.
• AF system: TTL Phase Detection system with 3 selectable AF zones and red activation lights. Single-shot, continuous, and manual focus. Sensitive down to EV 0 (at ISO 100).
• Shutter speeds: 60 to 1/4000 sec plus bulb.
• Metering: TTL metering with 49-zone Multi-Pattern metering in optical viewfinder mode, 256-zone Multi-Pattern metering in Live View mode. 1/3-stop exposure increments. Center-point spotmeter.
• ISO range: 100-1600 in 1-EV increments.
• Flash: Built-in pop-up unit with TTL metering, range 6.6 to 19.7 feet with auto ISO setting. Flash sync at 1/160 sec. Dedicated hot-shoe with TTL flash control for optional DMW-FL500 flash.
• Viewfinder: Eye-level fixed porro mirror.
• LCD: 2.5-inch TFT with 207,000 pixels. Up to 16X magnification in playback.
• Output: Hi-Speed USB 2.0 and NTSC/PAL video. PictBridge compatible.
• Software: Includes Lumix Simple Viewer, Photo Fun Studio, Silkypix Developer Studio.
• Batteries: Proprietary Li-ion rechargeable. CIPA battery life rating, 400 shots per charge.
• Size/weight: 3.5×5.8×3.2 in., 1.1 lb, body only. 2.36 lb with supplied lens, battery, and card.
• Street price: $1,900 with Leica D Vario-Elmarit 14-50mm f/2.8-3.5 MEGA OIS aspherical lens.
• For info: 800-211-7262; www.panasonic.com.
VIEWFINDER TESTViewfinder Accuracy: 94% (Excellent)
Viewfinder Magnification: 0.89X (Excellent)