10 Last Minute Gift Ideas for the Outdoor Photographer
Whether it's a tripod, pocket-camera, or photo vacation, we've got the perfect gift for you.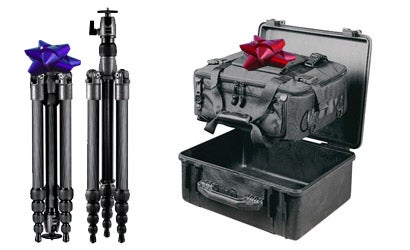 Still stumped as to what to ask for? Or still looking for that special something for the wildlife and nature photographer in your life? Here are a few cool things that should be on every outdoor photographer's wishlist.
Three Compact Cameras to Consider
Panasonic Lumix DMC-TZ3****(street: $299)
This compact 7.2-megapixel camera manages to pack an optically stabilized 10x zoom Leica DC Vario-Elmarit 28-280mm (35mm equivalent) lens with exceptional wide angle distortion control into a pocketable package that's solid and stylish at the same time. Also cool: Long exposures up to 60 seconds in starry sky mode, voice annotation, and the ability to adjust the time for home and vacations.
panasonic.com
Pentax Optio W30****(Street: $250)
When it comes to waterproof digital cameras, we love the 7.1-megapixel Pentax Optio W30. Waterproof to 10 feet, it's the perfect amphibian for snorkeling adventures or even in the backyard swimming pool. A centered lens and rubberized controls make for easy in-the-water operations. It's also super-easy and fun on dry land, too.
H20camera.com
Olympus Stylus 790SW****(street: $250)
Like the Pentax Optio W30, the 7.1-megapixel Olympus Stylus 790SW is waterproof to 10 feet. But it is a little more challenging to use in the water than the Pentax. Where this camera really shines is in the snow, on the mountains, and on kayak and rafting expeditions. It's waterproof, can handle a five-foot drop, has a built-in flashlight, and can operate down to minus 10 Celsius (that's 14 degrees!) for all but the most frigid ski and snow adventures.
olympusamerica.com
Photo Vacation
A Mentor Series Trip
Surprise your special photographer with the photo trip of a lifetime with our Mentor Series treks. A great student-to-mentor ratio combined with exotic and inspiring destinations make for the learning vacation of a lifetime! For 2008, there are trips to Hong Kong, Puerto Rico, and Norway… just to name a few! Mentors include Mark Alberhasky, Rob Van Petten and Reed Hoffman. Your photographer will surely never forget the experience or the lessons.
mentorseries.com
Photo Fun
Lensbaby 3G (direct: $250)
This fun little lens, available for many camera systems, is decidedly low-tech. It's got push-pull coarse focusing and two methods of fine focusing for complete control of dreamy visions. Sure, it's low-tech, but the images it creates can be fantastic. And if your photographer already happens to have a Lensbaby, there's a whole host of add-ons including wide or telephoto adapters, and macro lenses to expand their 'baby visions.
lensbabies.com
Gitzo GT-1550T Traveler 6X Carbon Fiber Tripod with G1077M Ballhead (Street: $640)
This superlight carbon-fiber tripod weighs in at just 2.2 pounds, or about a kilogram, but can support nearly ten pounds. It extends to 57.5 inches, but folds down to a slim 14 inches. In other words, it's small enough to fit in a carry-on sized bag, but strong enough to handle even a pro camera with some long glass attached. Less weight and size on the 'pod means more room for other gear, and we like that a lot!
gitzo.com
Think Tank Hydrophobia 300/600 (Street: $149 for cover, plus $35 for custom eyepiece for specific cameras)
If your special photographer has really long glass — we're talking 300mm f/2.8s and up, odds are they are hardcore shooters. The kind who aren't going to let a little rain get in the way of a wildlife expedition or sports shoot. And they've probably got some sort of rain gear for their camera, but probably nothing that's as well-designed as Think Thank's Hydrophobia. It can be pre-attached to the lenshood for quick mounting should the weather take a turn for the worse. But what's even better? It's got two elastic-corded arm sleeves: one for controlling the camera, and the other for focus and zooming. Really, it's just about the best long-glass rain cover we've come across.
thinktankphoto.com/hydrophobia
Lowepro Omni Trekker Extreme (street: $255)
This is really two camera cases in one. The hard shell is an ultra-tough, lockable Pelican 1520 Extreme Case that's tough enough to survive pretty much anything thrown at it, whether it's water, impacts, or just rattling around the trunk of a backcountry 4×4. Inside lies a removable Omni Pro bag that can be slung over a shoulder or worn as a backpack, all while carrying a respectable amount of pro-level gear for demanding location shoots.
lowepro.com
Photo Software
Dynamic Photo HDR 2.01: (direct: $39)
Your landscape photographer can get his Ansel on with this economical but feature-packed High Dynamic Range (HDR) generation and Tonemapping program. There are six Tonemappers for HDR effects ranging from subtle photorealistic to over-the-top surrealism. Best yet for your aspiring pro? Quick and easy monochrome conversions in either true grays or any tint imaginable.
Check out our tutorial and review of v1.8.
Adobe Photoshop CS3 Extended (street: $999)
Yes, Adobe Photoshop CS3 Extended is about $350 more than the regular version of Photoshop, but here are two great reasons to consider an upgrade:
• Still-image based video output — timelapse, stop action, or chop action — that's about 10-click-easy for output as QuickTime movies for any host of mobile devices or monitors, all the way up to HDTV 1080p for sharing that spectacular sunset sequence on your widescreen HDTV.
• Ten-click-easy "Tourist Erasing" with Smart Object Stacks. Snap a few frames of the identical scene from a tripod, import the series into Photoshop CS3 Extended, click a few buttons, and you've got the Grand Canyon all to yourself!
adobe.com