Your Best Shot
1st Place: Jamming Jellies Underwater photography without getting wet? Sure, just ask SNEHENDU KAR. A professor at UCLA's School of … Continued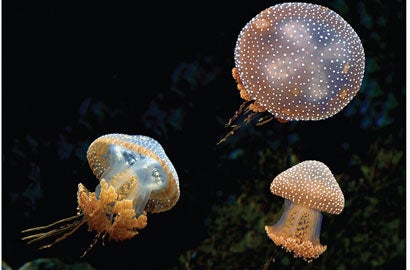 1st Place: Jamming Jellies
Underwater photography without getting wet? Sure, just ask SNEHENDU KAR. A professor at UCLA's School of Public Health, the 72-year-old likes to photograph at the Long Beach (CA) Aquarium. To avoid flash glare, he positioned his camera at a 45-degree angle as close to the aquarium window as he could get it without touching the glass, and prefocused on a spot.
"I had to take hundreds of pictures for just a few that came out well," he tells us.
Tech info: Nikon D100 with 18-70mm f/3.5-4.5G DX Nikkor lens. Exposure, 1/60 sec at f/8. Built-in flash. Adjustments made in Adobe Photoshop 7.
2nd Place: City Lights
Early one evening, Chicago resident STEVEN JONES hit the streets with his camera, a tripod, and a friend, planning to shoot the "amazing" colored lights of the bridges downtown. Instead, the 17-year-old, now a senior in high school, turned around and caught this passerby in a composition seemingly made for black and white.
"I cropped the photo square to eliminate a lot of buildings on the left cluttering up the scene," he says. "I've been experimenting with the square format lately."
Tech info: Tripod-mounted Canon EOS Digital Rebel with 19-35mm f/3.5-4.5 Tokina lens. Exposure, 1 sec at f/8, ISO 100. Converted to b&w and cropped in Adobe Photoshop CS.
3rd Place: A Small World
As soon as it stopped raining in Oxford Station, Ontario, WENDY STEVENSON, 45, grabbed her camera and ran to the back yard. "Rain is such a great saturator of color," she says. The stay-at-home mother found this ladybug clinging to a shasta daisy.
Not shy to direct her model, "I scooted him over a bit," she recalls. "He was very obliging."
Tech info: Canon EOS Digital Rebel with 100mm f/2 EF Canon lens. Exposure, 1/20 sec at f/13, ISO 100. Shot in RAW; levels and hue/saturation adjusted, cropped, and sharpened in Adobe Photoshop CS.
Honorable Mention: Car Trails
"Barcelona is so rock-and-roll," says JEREMIAH WILSON, 24, of his weekend spent roaming the Spanish city with his camera. Night scenes like this one "are pretty much what I shoot now," says the pro photographer from Warren, IN. "The exposures last minutes or even hours. You're just digging the scene while you're waiting for the camera to capture the image."
Tech info: Tripod-mounted Hasselblad 501CM with 80mm f/2.8 CFE Zeiss Planar lens. Exposure, 2 to 5 minutes, ISO 100. Fujifilm Superia 120 color-negative film.
Honorable Mention: Fly Catcher
ERNEST LEE, a 51-year-old teacher from Hong Kong who now lives in Sydney, Australia, set a tough goal for himself: to photograph this type of dragonfly on the move, legs tucked aerodynamically close to the body. This one flew around his head for 10 minutes, forcing him to focus manually.
But he was unhappy with the "boring" background, so later he sought a setting whose color matched his subject, then digitally sandwiched them together.
Tech info: Nikon D70 with Nikkor 180mm f/2.8 IF-ED lens. Exposures, 1/800 sec at f/7, ISO 400 (dragonfly); 1/250 sec at f/4.5, ISO 200 (leaves). Shot in RAW; combined and lens flare added in Adobe Photoshop CS.